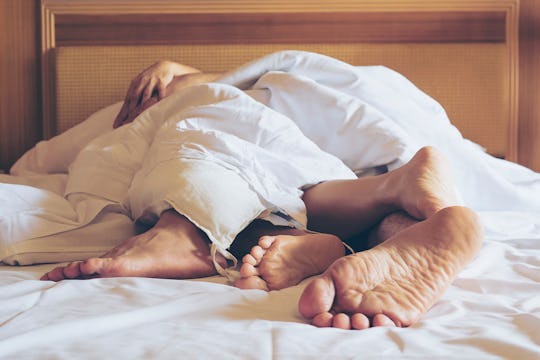 Srinrat Wuttichaikitcharoen / EyeEm, Getty images
11 Mother's Day Sex Positions For Her
Sure, you know that you should be completely and utterly spoiled on Mother's Day. (And if we're being honest, every day, really.) But chances are, you're still going to be serving up snacks and folding a load of laundry on your special day. Still, one place you shouldn't have to lift a finger is in the bedroom. So step aside, chocolates and flowers, because if you're looking for the perfect present, these Mother's Day sex positions will give you what you really want.
Sexy time with your sweetie should always be fun, but sometimes, it can also feel like a lot of work. That's why you shouldn't focus on expending a whole lot of effort to get yourself off, Zoë Ligon, a Detroit-based sex educator and author of Carnal Knowledge: Sex Education You Didn't Get in School tells Romper. "Have whatever kind of day you want to have on Mother's Day, but make sure you have the most amazing, pleasure-focused sex that we all deserve," she says.
Whether your preference is oral or doggy style, or you're in the mood to switch up things in the sack, the shower — or just about anywhere you want to get lucky — with minimal effort… and maximum orgasms, here are some sex positions that prioritize a woman's pleasure to try on Mother's Day.
You might be juggling a thousand balls in the air at any given time, that doesn't mean that you're not a sexual being or that you don't have desires. Take time on Mother's Day to cater to your own sexual needs, and be sure to start or end (or both) the day in orgasmic ecstasy.
This article was originally published on