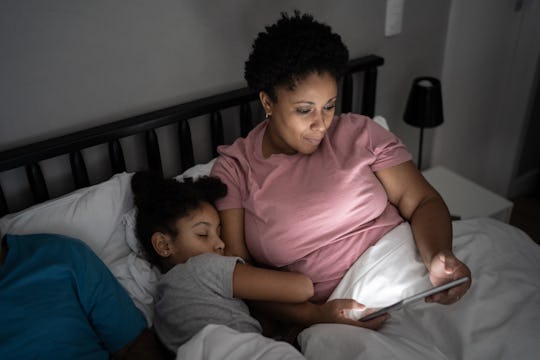 FG Trade/E+/Getty Images
23 Best Mother's Day 2021 Movies To Make You Laugh, Cry, & Everything In Between
Obviously you should get the tissues ready.
It's hard to put what motherhood is into words. Poets have tried, songwriters have penned tunes, but perhaps the best medium that depicts motherhood accurately is film. All the more reason to settle in with one of these 23 best Mother's Day movies.
Full of heart and humor, these flicks personify the mother experience, from its frustrations to its epiphanies, failures to wins. Who can't relate to Shelley Long's hilarious mom determination as a Troop Beverly Hills Wilderness Girls leader committed to helping her feckless scouts win the Jamboree? Or the heartache of a mom losing her daughter in Steel Magnolias? Or the plight of Maya Rudolph's character in Away We Go as she and her husband (played by John Krasinski)search to find a home to raise their new baby?
Each movie hones in on a specific yet universal part of motherhood familiar to mamas the world over — from the surprises of a new baby to the challenges of raising an angsty tween — then mines it for laughs and poignant pauses. And if watching something like that doesn't sound incredibly therapeutic this Mother's Day, what does?
So pop some popcorn, grab some Junior Mints, and snuggle in for a little screen time that's all about the all too familiar #momlife.
Ready to cue up one of these Mother's Day masterpieces? Pick one or a few and settle in for a little mama drama therapy.