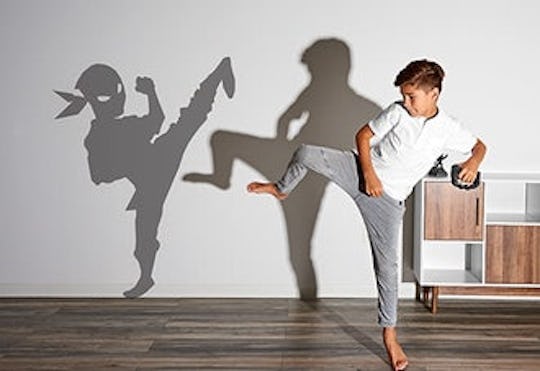 Sharper Image
20 Unique Gifts For Your Sports-Loving Kid
So you don't have to store yet another basketball in the garage.
Looking for out-of-the-box gift ideas for your sports-obsessed kid this holiday season? While you may already be covered when it comes to basketballs, soccer nets, and tennis rackets, fear not, dear shoppers. Turns out, there are plenty of unique sports gifts for kids that can keep your energetic child engaged during the winter months and beyond. We all know the benefits of kids playing sports are numerous, from boosting self-esteem to acting as a natural stress reliever, so this is great news for parents when it comes to holiday shopping this year. Regardless of the season, these sporty gift ideas are each designed to get your kid moving and having fun during any time of the year.
From going for the perfect knockout with an inflatable punching bag set to practicing karate moves against a shadow opponent on the wall (yes, really!), these sports gifts for kids really take things up a notch in the sports gift-giving department. And you never know, you may even want to join in on many of these games, too. Here's to keeping kids active and engaged this holiday season, and giving them something they haven't seen before. Read on for 23 insanely fun sports gifts for kids to give this holiday season.
We only include products that have been independently selected by Romper's editorial team. However, we may receive a portion of sales if you purchase a product through a link in this article.
Any one of these sports gifts for kids will keep any child busy and happy during the winter months right on through to the summer. For more gift suggestions for children of all ages, check out Romper's comprehensive list of the best toys for babies, toddlers, kids, and tweens this season.
This article was originally published on