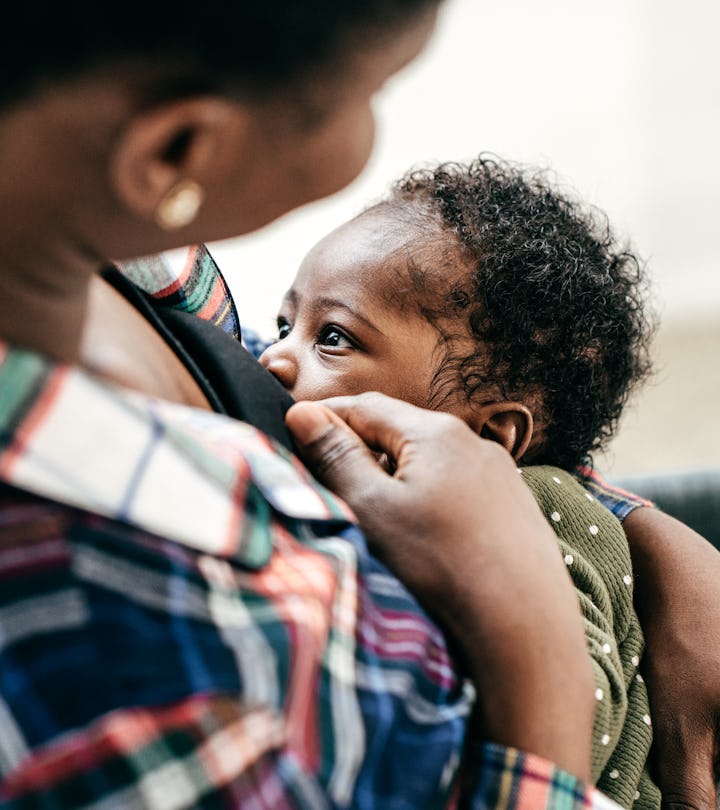 kate_sept2004/E+/Getty Images
5 Best Breastfeeding Positions To Ease Back Pain
So you can truly enjoy nursing your baby.
Although breastfeeding has countless benefits for both you and your baby, many moms don't expect some of the aches and pains that come along with it, namely the back pain that comes from toting your (surprisingly heavy) little one with you and sitting down more often than usual. Whether or not you've suffered from back problems in the past, new mothers can have back pain as a result of being pregnant, being in labor, and sitting in a hospital bed, and you may notice that breastfeeding places unprecedented strain on your back and aggravates it more.
"The biggest cause [of] back pain is a mom who is hunching over her baby and bringing her breasts to the baby instead of her baby to the breast," Michelle Poole, a board-certified lactation consultant, tells Romper. "Since she's trying to get this nice, deep latch, she might wind up in this super uncomfortable, non-ergonomic position, but because her baby is latched and eating, the mom just stays like that."
If you're suddenly dealing with more back pain than you've had in the past, don't be surprised. Along with all of the other motherhood-related changes, breastfeeding moms have to adapt to sitting for longer periods of time than they're likely used to, and with that lifestyle change comes some necessary adjustments to ensure you're treating your back right.
Luckily, there are several breastfeeding positions for women with back problems that, when combined with lower back physical therapy stretches and exercises, can help relieve or maybe even permanently correct some of the pain you're experiencing. Of course, it's not only women who breastfeed, and these positions will help parents of any gender who are currently nursing a child. Even if you aren't dealing with back pain right now, these five expert-backed breastfeeding positions for back pain will help you take care of your body while you nurse, ensuring that it doesn't become an issue later on.
As a final tip, Poole advises involving a partner to help make sure you are treating yourself and your back right when nursing. "They can help remind you to relax your shoulders, sit back, use a pillow — those kinds of little reminders to help you when it comes to breastfeeding." Though it can feel like you are simply living in service of your newborn, protecting your body and health is incredibly important in raising your baby.
Experts:
Michelle Poole, board-certified lactation consultant
Rebecca Koyf, board-certified lactation consultant
This article was originally published on