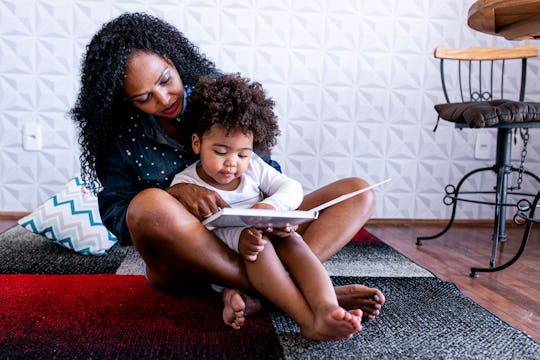 Studio CJ/E+/Getty Images
These Children's Books About Juneteenth Are A Must For Families
Because school curriculums don't tell the full truth about American history.
Juneteenth represents June 19, 1865, a day celebrated in the Black community to acknowledge when the last of those enslaved in the United States (in Galveston, Texas) were released as free American citizens. It's also known as Freedom Day, and because Black people were still being bought and sold during the birth of America's "Independence Day," Juneteenth is our true Fourth of July.
In school, we learn about President Lincoln signing the emancipation proclamation on January 1, 1863, declaring all who were enslaved to be freed. But it would take more than two and a half years for enslavers in Galveston, Texas to comply.
"With all the fuss around Critical Race Theory, nobody is really discussing the fact that history has never been properly taught in schools and much of Black history is purposely withheld or whitewashed, which is why Juneteenth wasn't on many people's radar until Summer 2020. That includes many Black people," Yolanda Williams, founder of Parenting Decolonized, tells Romper.
Unfortunately, my history teachers also failed to educate me about Juneteenth. And, if it isn't passed down in Black families, it's usually forgotten. But our kids should know!
"Celebrating Juneteenth with your children honors the enslaved whose shoulders we stand on. It honors their lives and their never-ending hope that one day we might all be free. Children need to understand this history, and we need to discuss it with them without shame and with great care, allowing them to ask questions and celebrate the day slavery ended in this country," Williams says.
And thankfully, there are many children's books that fill the gap left in curriculums and help with this conversation. These authors explain Juneteenth in a way for children to understand historical facts and the reason Black people proudly create festivities to observe the day emancipation was realized for all those enslaved.
We only include products that have been independently selected by Romper's editorial team. However, we may receive a portion of sales if you purchase a product through a link in this article.
These books contain the joy, trials, triumphs and truthful experiences surrounding Juneteenth and we can't forget to remember where we've come from. Although most of it is hard to confront, our children can better face the future by understanding the importance of what happened on this day in history.
This article was originally published on