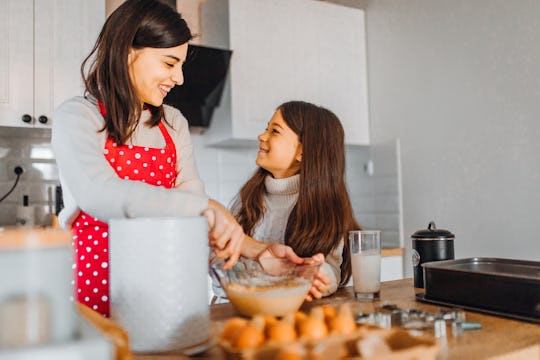 ReMa/E+/Getty Images
12 Responsibilities For Kids That Make Them Feel Special, According To Experts
Help instill a sense of joy and service to others.
My 5-year-old is a pro at helping me move laundry baskets. He takes the job of pushing an overflowing basket down the hallway from my bedroom and into the garage (where our washer and dryer are) so seriously that if he sees me even attempting to do this chore myself, he stops me in my tracks. This responsibility was born out of necessity when I was having a chronic pain flare-up, but now he has a total grip on the task and there's no going back.
Responsibilities that make a child feel special can come in all shapes and sizes. For my son, knowing that he helped me when I was in pain made him feel special and needed, so now when he performs this chore, he gets the same gratification from it every time.
This idea is backed by science, too. Sarah Hornack, Ph.D., a clinical psychologist at Children's National Health System, explains why assigning responsibilities to your children can help them feel special. "Taking on new or helpful tasks presents an opportunity for praise and helps children to feel appreciated as they contribute to the household," she tells Romper. "Additionally, learning new chores and being given responsibility builds greater self-efficacy as children get older. This feeling of competence has been linked to other positive outcomes in childhood and adolescence, like academic achievement and the ability to cope with stressors."
Take some inspiration from these 12 responsibilities that make a child feel special if you are looking for ways to give your kid a confidence boost.
Whether it's as simple as pushing your laundry basket down a hall or as hands-on as cleaning the car, giving your child a sense of responsibility will instill a bout of pride and confidence. Plus, the extra help is always appreciated.
Experts:
Sarah Hornack, Ph.D., clinical psychologist at Children's National Health System
Maureen Healy, author of The Emotionally Healthy Child and parenting coach at Growinghappykids.com
Dr. Gene Beresin, M.D., executive director of The Clay Center for Young Healthy Minds
Renee Cachia, Ph.D., holistic child, adolescent, and parenting psychologist and author of Parenting Freedom
This article was originally published on