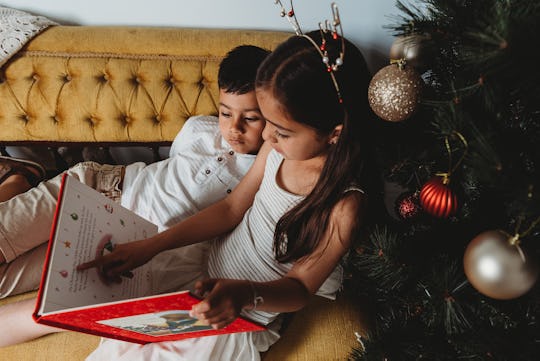 Cavan Images/Cavan/Getty Images
Get In The Holiday Spirit With These Christmas Books For Kids
From beloved classics to silly new tales.
Traditions are a big part of celebrating Christmas, and for some, that means reading their favorite holiday books. It's an easy tradition to pass on to your kids, too, because are so many fantastic Christmas books for kids that you can read as a family with some mugs of hot cocoa and fresh cookies. It sounds like a pretty good time, doesn't it?
Between the twinkling lights, warm fires, and the anticipation of Santa's arrival, it doesn't get much better than Christmas. In my house, books are a big part of the season. Every year, after we've finished Thanksgiving dinner, my husband and I gift our girls with a couple of Christmas books for kids that we read with them (usually over and over) until the holiday arrives. We also crack open our copy of A Christmas Carol and work our way through it over the weeks. For us, Christmas is not the same without a stack of festive books.
If this sounds like a tradition you want to start with your family, then you'll need a few Christmas books for kids for your library. While stories like How the Grinch Stole Christmas and The Polar Express are timeless, there are so many more books that deserve a spot on their bookshelves. Here are some fun options to get you started.
We only include products that have been independently selected by Romper's editorial team. However, we may receive a portion of sales if you purchase a product through a link in this article.