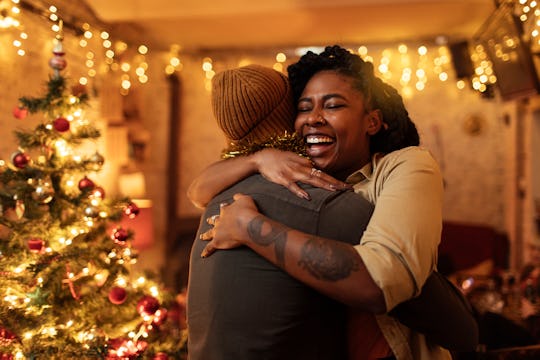 mihailomilovanovic/E+/Getty Images
These Christmas Tattoos Will Keep The Spirit Alive All Year Long
Because a candy cane tat is too cute.
As lovely as it all might be, the Christmas season is one heck of a physical and mental marathon. There's such a flurry of activity, of friends and family visiting, singing, shopping and decking the halls, that it never seems like you have enough time to get everything done — and enjoy doing it as well. And when you're finally able to really soak it all in, welp, it's pretty much over. But imagine you could literally keep that sense of Christmas with you always, but sans the stress and crowded malls? Some people are giving themselves the prettiest (and, um, most permanent) present of all: Christmas tattoos.
Unless you're super spontaneous (or slightly schnockered), people who choose to get a tat are often looking for something meaningful to them. It might be a portrait of a pet who has passed, their baby's newborn footprints, or a special number. But if you love a certain holiday (like Christmas), there's no reason why you can't spread some holiday cheer throughout the year by getting a tattoo of a Christmas tree, candy canes, or even Santa Claus himself. Not only will seeing your Christmas tattoo remind you of one of the most magical times of the year, but it's guaranteed to make other people feel Santa-mental, too.
If you're pine-ing for a Christmas tattoo that will give you all the festive feels, hold on for deer life, because the ones below just might inspire you to get inked.
If you love the merriment that the holidays bring, you can literally carry it with you always with a Christmas tattoo. And with so many inspirational options, it just might turn out to be the most wonderful time of the of the year — to get inked.