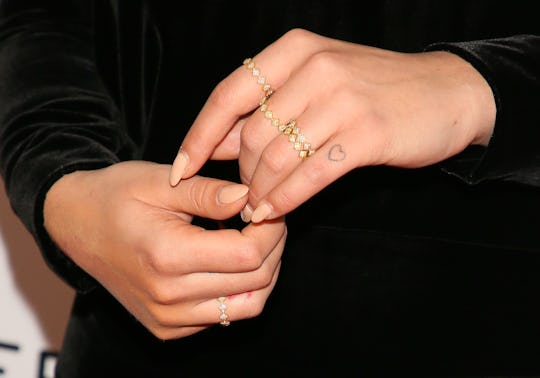 JB Lacroix/WireImage/Getty Images
These 32 Minimalist Tattoos For Families Have Maximum Meaning
Get inked to celebrate the people you love most.
Gifts, phone calls, texts, and greeting cards are wonderful ways to show your love and connection to the members of your family. But if you're looking for a way to show the world that you're a united front, then you could consider getting a matching family tattoo together to demonstrate your unity and eternal bonds.
While many people can and do opt for oversized tats to represent their families (such as having their children's names, footprints, or pictures inked on their arms or backs), other families prefer the minimalist look: a small matching or complementary design that fits neatly on the wrist, ankle, shoulder, or another area that's subtly visible.
Some family tats have a clear meaning: names, initials, birth dates, or a simple statement like "Family Forever." Others might make people do a quick double-take, such as matching geometric symbols. Not all tattoo meanings will be obvious to anyone outside your family, and that's OK. If a matching set of honeybees, dolphins, cartoon characters, or emojis has a special significance to you and your sibs, that's your business.
Below, find a list of matching tattoo ideas for families to get you started. Have a talk with your parents, siblings, and other family members to see who's on board with the idea and which designs best represent your personalities and ideals (so no one ends up with tattoo regret), and then schedule a meeting with a skilled tattoo artist to get the ink that you'll be proud to wear forever.
Whether you prefer a floral design, geometric pattern, or animal motif, the minimalist tattoo options are endless. Whatever you choose will be extra special because of the meaning behind it.
This article was originally published on