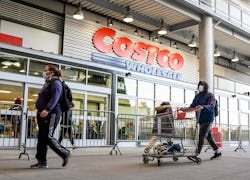 Here's The Story With Costco's Christmas Hours This Year
Noam Galai/Getty Images Entertainment/Getty Images
Have a very merry last-minute food court hot dog.
If you need to make that last-minute dash to the store before the holidays, it's pretty crucial to know what's actually going to be open this year. After all, nobody likes to be surprised by a closed sign. So, for fans of the bulk wholesaler, here are the Costco holiday hours for 2021. (This is great info for anyone who gives a bunch of Kirkland brand gifts every year.)
Costco is a must-stop when it comes to holiday shopping. With special savings reaching beyond the scope of their usual members-only deals, it simply makes the most sense to place this as your number-one (and possibly only) shopping destination this season. Not to mention all their highly-anticipated special holiday stock, like Christmas decor for inside and outside your house — and who could possibly forget about the iconic Yule Log cakes from the Costco bakery section that all but set the internet on fire in 2020? If you have any avid beer tasters in the family, run — don't walk — to Costco for their 2021 craft beer advent calendar. Wine aficionados? Totally covered, too. With Costco's Wine Adventure wine advent calendar, featuring 24 half bottles from across the globe, the wine-lover in your life will be transported to places like South Africa, France, Italy, and Portugal with one swirl, sniff, and sip. Or maybe you're just in the market for one giant, fuzzy winter-themed blanket — they've got plenty of those.
Just because you blinked and suddenly you're on the cusp of Christmas itself, that doesn't mean all hope of making out like a bandit — or a Grinch — is lost. Ahead, find Costco's holiday hours for 2021 so you can plan your shopping accordingly.
Is Costco Open On Christmas Eve And Christmas Day?
So, first things first — is Costco open on Christmas Day? The news is pretty clear on this one. According to the Costco website, all U.S. warehouses are closed on December 25. Other dates and times may vary by location, however, so check out your local store's website for Costco's holiday hours before heading out on December 24, for instance.
Because 2021 holiday shopping still means gathering in crowded indoor spaces, keep Costco's current COVID-19 guidelines in mind as well, which vary by location. The wholesaler is also offering special shopping hours for customers who are 60 and older, have disabilities, or are immunocompromised. For most locations in the U.S. and Puerto Rico, these special shopping hours occur on Tuesdays and Thursdays from 9 a.m. to 10 a.m. But, you'll want to keep in mind that no other guests will be permitted during this time, and there are select locations with differing special shopping hours.
There's also the option to shop from home with Costco's online-only special sales, which include everything from cozy apparel to gift-worthy kitchenware and loads of jewelry products. If holiday shopping at Costco is in your future, there are plenty of ways to get it done in time for Santa's arrival.
This article was originally published on