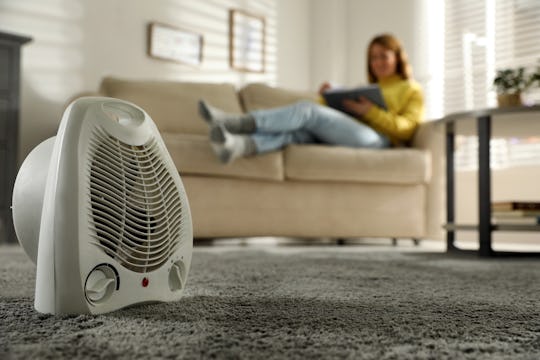 Shutterstock
8 Dangerous Space Heater Mistakes To Avoid, According To Experts
Especially if you have kids or pets.
As temperatures drop outside, many families rely on portable space heaters to help keep toasty and warm in the winter. However, while they can provide cozy warmth in the chilly winter weather, space heaters are dangerous if used incorrectly. If you do use them to heat your home, experts advise that there are certain space heater tips and tricks you should keep in mind if you want to avoid making what can end up being a dangerous mistake.
It may come as a surprise that heating is the second leading cause of home fires in the country, according to the U.S. Fire Administration. And space heaters alone are estimated to cause 81% of home heating fire-related deaths each year, as found by the National Fire Protection Association (NFPA). Overall, the NFPA states that home heating fires have resulted in annual losses of 500 civilian deaths, 1,350 civilian injuries, and $1.1 billion in direct property damage.
Most space heater danger, though, is very avoidable if you take the right steps to ensure fire safety in your home. For more about how to safely use space heaters to keep your home warm this winter, below are eight dangerous mistakes to avoid, according to experts.
Overall, space heaters can pose many threats if you don't follow the recommended safety tips — especially if you have little ones running around. However, as long as you are cautious and mindful when using one to heat your home and stay cozy in the cold months, you should be fine.
Experts:
New York State Office of Fire Prevention and Control
Robert O'Brien, retired firefighter, co-owner of NY Fire Safety Institute, and vice president of NY Fire Consultants
This article was originally published on