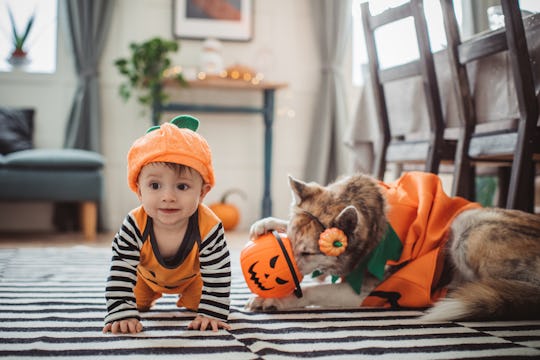 svetikd/E+/Getty Images
28 Halloween Costume Combos For Dogs & Babies
We may receive a portion of sales if you purchase a product through a link in this article.
If you have both a baby and a dog to dress up this Halloween, then embrace this opportunity completely. Matching baby and dog Halloween costumes are all about maximizing their cuteness factor. Whether they're dressed up like movie characters, bugs, or classic Halloween creatures, these costume duos are sure to grab all the attention this October.
If you have a dog who enjoys wearing clothes and costumes, then Halloween is the ideal time to expand their wardrobe for a dog and baby Halloween costume. There are plenty of clever Halloween costumes for dogs featuring everything from Star Wars characters to mystical unicorns. Basically, there's a dog costume for just about anything these days, and some are seriously clever and hilarious.
If your dog isn't into playing dress-up, then they can still be a part of your family's costume theme. For instance, you can dress the whole family in Bluey Halloween costumes and let the dog go as, well, a regular dog.
In any case, here are Halloween costume combos for dogs and babies that will make you laugh or say "Awww!"
Whatever your plans are this year, one way to make the spooky holiday memorable is by dressing all your loves in themed costumes. As the matching Halloween costumes for dogs and babies prove, these adorable getups will make a hilarious addition to any celebration.
This article was originally published on