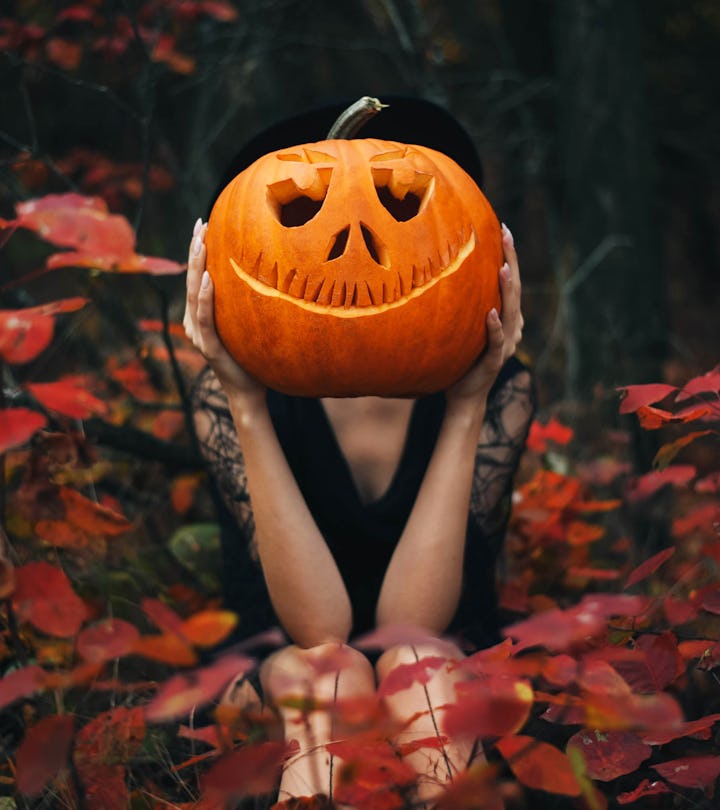 Maryna Terletska/Moment/Getty Images
50 Halloween Instagram Captions From Funny To Sexy To Spooky
The temperatures are dropping, pumpkin-spiced everything is back in stores, and the calendar says October 31. That can only mean one thing: It's time to add some spooky flair to your social media with Halloween Instagram captions. Let's be real. October 31 and IG were pretty much made for each other. How else could you show off your Margot Robbie as Barbie costume, or that Stranger Things decoration you crocheted that actually kind of looks like a walking vagina, but your husband is too polite to say so?
Instagram has, in some ways, made Halloween a competitive sport — like a global costume contest, with everyone vying to win "Creepiest" or "Quirkiest" or "Most Likely to Be Featured on The Today Show in a Segment called 'Inappropriate Costumes for Small Children.'" Sure, it's maybe a little annoying to see try-hard parents dressing their entire family as the Kardashian-Jenners, and forcing their baby into some faux high fashion outfit and makeup. But overall, Halloween can be as fun as you want it to be.
And you can embrace and share the rollercoaster of emotions you feel during the spooky season with these captions. Whether you're feeling sexy, exhausted, elated, or anything in between, these Halloween captions capture the chaos and excitement of it all. And before you know it, it will all be but a Tootsie Roll pop haze.
No matter the vibe of your photo — cute, spooky or spicy — there is always a Halloween caption out there that fits the bill. Whether you use one of these or come up with your own, enjoy the Halloween season in all its spooky galore with a festive Instagram post.
This article was originally published on