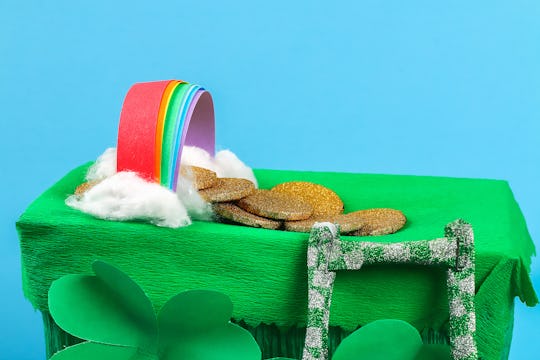 Shutterstock
Get Ready For St. Patrick's Day With These 11 Adorable Leprechaun Traps
Remember when Saint Patrick's Day wasn't about overindulging in suspiciously green beer? There was a time when you, like me, may have truly believed that with enough construction paper and glue sticks, you could build a trap to catch a Leprechaun. That time was called primary school and if you're living with some elementary kiddos, this time leading up to Saint Patrick's Day is the perfect opportunity to revisit this whimsical pursuit with 11 fun leprechaun trap projects.
The basic gist of the idea is to build a device that will either lure leprechauns in or snap shut on them once they've entered so you can, of course, trap them and grab some of their pot of gold. The ultimate imagination exercise (for both your kids and you!), it requires that everyone put on their "let's pretend" cap, so give a word of warning to any skeptical older sibs who might break the spell.
Another pro tip: Find some fake chocolate coins in advance on March 17 to really blow your child's mind. My husband managed to pull this off the first year my son built a leprechaun trap and let me tell you, a little boy has never looked more like the definition of the phrase "the magic is real" than he did that day.