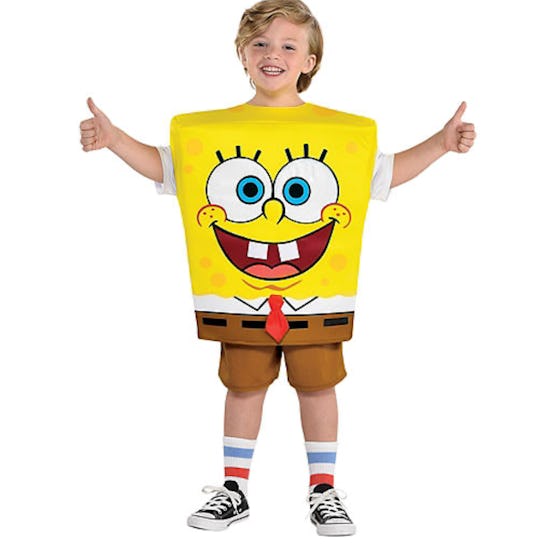 Party City
These SpongeBob Squarepants Halloween Costumes Will Go Over Big In Bikini Bottom
These costumes are cuter than a Krabby Patty.
Although you may not live in a pineapple under the sea, your family probably loves the little yellow sponge who does. That's right, everyone's favorite fry cook, SpongeBob SquarePants, has been a beloved cartoon character for over 20 years. Maybe it's his infectious giggle, or his always-happy nature that keeps kids (and their parents) watching the show. But if you or your child wants to dress up as the sea sponge (or some of the other characters on the show), these SpongeBob Halloween costumes will be a big hit in Bikini Bottom... or just in your neighborhood.
SpongeBob SquarePants is one of the longest-running cartoons of all time. That's right: the first episode aired way back on May 1, 1999, and it was the world's introduction to a whole new underwater world of SpongeBob SquarePants, a sweet sponge who also works as a fry cook, Mr. Krabs, a miserly, money-obsessed crab, Patrick Star, a squishy pink starfish who just loves being SpongeBob's BFF, Squidward Tentacles, a self-absorbed octopus (that's right, Squidward is not a squid), and Plankton, a microbe with a master plan to take over the world by stealing the Krabby Patty secret formula. Apart from giving us an in-depth look at all these aquatically-acclimated characters, and funny jokes dispersed throughout each episode, a big part of SpongeBob SquarePants' appeal is that, at its core, it's about friendship and the overall likeability of its characters, despite their flaws.
So if you're looking to dress up as the show's leading character, Squidward, Sandy, or even Mr. Krabs, these Spongebob Halloween costumes that are cuter than a Krabby Patty.
We only include products that have been independently selected by Romper's editorial team. However, we may receive a portion of sales if you purchase a product through a link in this article.
There's no denying the enduring staying power of SpongeBob SquarePants. So if you're looking to celebrate the sponge, starfish, or other colorful characters from the show, there are plenty of SpongeBob SquarePants costumes to make you want to drop on the deck and flop like a fish.