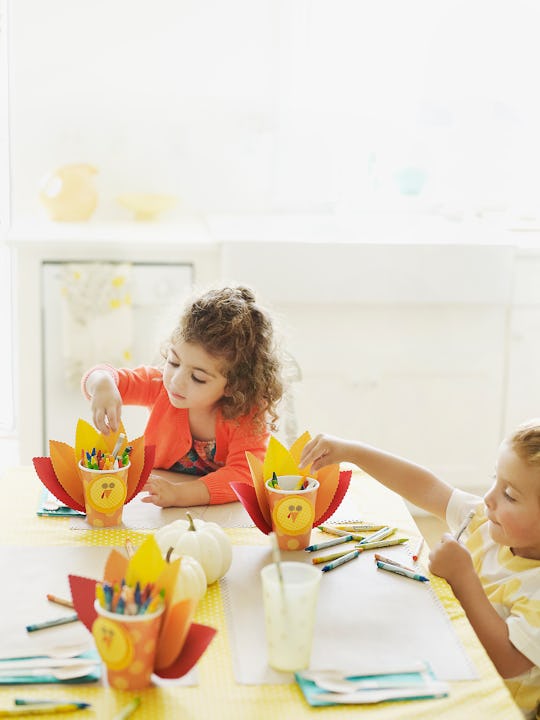 Alexandra Grablewski/Stone/Getty Images
Keep Kids Busy Until Dinner With These Thanksgiving Color-By-Number Sheets
Because you need something for them to do until the turkey's timer pops up.
Thanksgiving is one of those holidays that can test the patience of any parent. Starting November 1, you start planning for the big day, buying Thanksgiving outfits and accessories for your little one to wear. You lovingly set the table, and you agonize over the menu. But the problem is that Thanksgiving, unlike Christmas, isn't an instant gratification holiday. No, you have to wait a long, long time before making your way to the table to eat your meal. And these Thanksgiving color by number pages can keep your kids busy — and out of the hot kitchen.
Apart from potentially stopping incessant complaining about being bored/not eating yet, Thanksgiving color by number pages can actually be educational. They help your child practice learning their numbers (which is particularly important for preschoolers), but it can even reinforce color recognition, too. Younger kids can also improve their hand-eye coordination and fine motor skills, and also encourage your pint-sized Picasso to color a new creation that will inevitably find its way onto your fridge.
So check out these Thanksgiving color by number pages that will be as delish as the meal itself.
We only include products that have been independently selected by Romper's editorial team. However, we may receive a portion of sales if you purchase a product through a link in this article.
Thanksgiving color by number pages can serve so many purposes. Not only can they keep your kids busy while you cook, but they can also be educational as well. And maybe, just maybe, you can clue your kid on why Thanksgiving is celebrated, and make it a family choice if you want to continue the tradition.