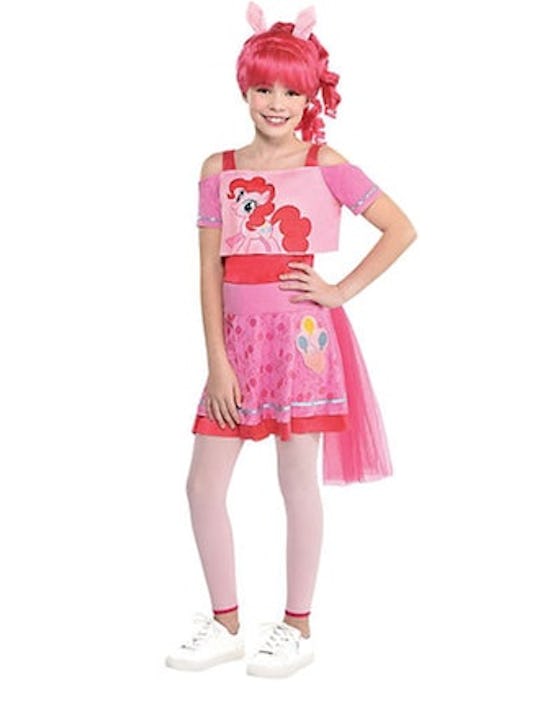 Party City
These 'My Little Pony' Costumes Will Take You Straight To Equestria
Ponies that can be a princess or a Pegasus? Yes, please.
When you asked your My Little Pony-loving child what they wanted to be for Halloween, the answer was obviously equestrian in nature. And who could blame them, since My Little Pony costumes are super colorful, cutie mark-covered, glittery goodness all wrapped in tons of tulle, gemstones, and magic dust. (Well, not really, but they should be.)
Originally from the 80s, My Little Pony started as My Pretty Pony, a pony figure created by the Hasbro toy company in 1981. When the line didn't do so well, Hasbro reinvented the collection, with six smaller (and let's face it, cuter) toys, and gave it a new name: My Little Pony. The original squad — Twilight Sparkle, Posey, Applejack, Firefly, Glory, and Surprise — have continued to be popular since the 90s. Today, My Little Pony has gone through a few iterations, and fans of the Mane 6 squad can now see Pinkie Pie, Rarity, Rainbow Dash, Twilight Sparkle, Applejack, and Fluttershy in My Little Pony: A New Generation. But one thing has stayed the same throughout the years, (besides their colorful flowing manes, that is), and that's the friendship that these ponies share.
So even if they can't visit Equestria in person, they can dress the part of their favorite pony with these My Little Pony costumes that earn extra marks for cuteness — and for letting your child sparkle and shine.
We only include products that have been independently selected by Romper's editorial team. However, we may receive a portion of sales if you purchase a product through a link in this article.
When it comes to Halloween costumes, you can't get more colorful or adorable than My Little Pony. While there aren't too many options to choose from, it makes the costume even more unique, just like the ponies (and your child), too. You can wear them well past the holiday anytime your child wants some frilly fun — or just to horse around.