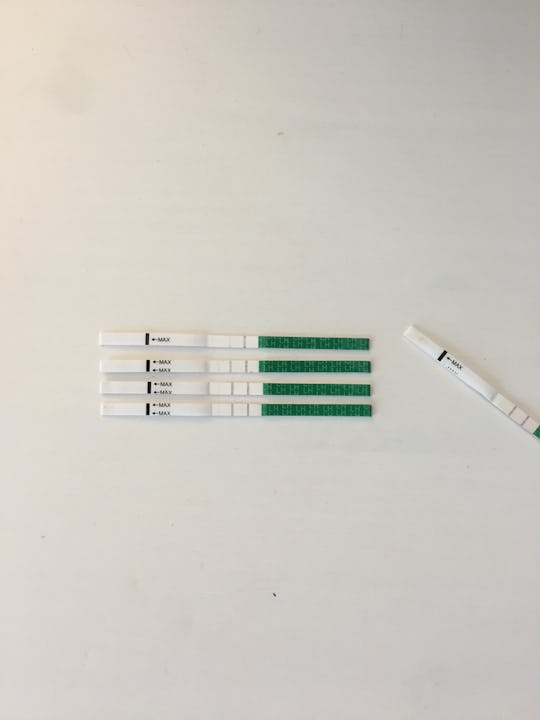 Courtesy of Abi Berwager Schreier
How To Determine Which Ovulation Test Is Right For You
From digitals to wands to strips, there is never a shortage of ovulation test/prediction kits (OPKs) to choose from. In fact, it can get a little overwhelming in the pharmacy. What kind of ovulation test should you take, and which one is right for you? That's a little difficult to determine. It depends on your price point, the amount of tests you're taking per day (yes some women have to test at least three times per day), and readability.
First of all, it's important to know when to take an ovulation test to ensure you're getting an accurate reading and you don't miss your ovulation day. According to the American Pregnancy Association (APA), it's best to wait until you notice a build up of fertile-quality cervical mucus before you start testing. You can check this by following the Natural Family Planning Method and according to many experts, women with "normal" cycles (around 30 days), can expect ovulation day to typically be day 16 of your cycle.
Dr. Thomas Ruiz, OB-GYN at Orange Coast Medical Center in Fountain Valley, California, tells Romper, "If a woman has an average cycle length of 30 days, subtract 14 days ... making your ovulation day, day 16," but you can adjust calculations to your cycle accordingly. An OPK detects your LH surge, which is the "Luteinizing hormone," and this hormone increases 24 to 48 hours prior to ovulation, triggering the egg to be released, according to the APA.
Now that you know what to look for and how they work, it's time to figure out the breakdown of different types of OPKs, from the good, the easy to read, and the most inexpensive.