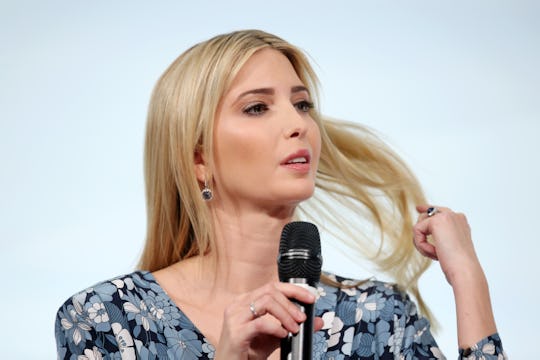 Sean Gallup/Getty Images News/Getty Images
What Does Trump's Military Trans Ban Say About Ivanka?
Even though she has stumped for and defended her father, President Donald Trump, Ivanka Trump has worked to cultivate a personal brand separate from his demonstrated anti-women, anti-environment, anti-LGBT, anti-you-name-it stances. The first daughter tried to uphold that façade even as she happily moved her family to Washington, D.C. upon Trump's election and ultimately accepted an official White House position as an adviser to the president. Those critical of Ivanka have long called this out as a flimsy sham, and the news Wednesday that the president had decided to ban transgender people from serving in the military made that argument just that much stronger. In fact, Trump's ban truly calls Ivanka's White House role into question.
In a series of tweets Wednesday morning, Trump announced that his decision to prohibit trans people from serving in the military "in any capacity" was the result of consultation with "Generals and military experts." "Our military must be focused on decisive and overwhelming victory and cannot be burdened with the tremendous medical costs and disruption that transgender in the military would entail," he wrote.
The move exposed Trump as a hypocrite on the subject, as he had previously promised to "fight" for LGBT rights. And some channeled their rage at Ivanka, who quite recently claimed to support LGBT individuals.
June 1 was the kickoff of Pride Month, even though the Trump administration — of which Ivanka is a part — refused to officially recognize that. Still, the first daughter and adviser to the president marked the day by wishing her followers "a joyful #Pride2017" and giving a shoutout to "the LGBTQ Americans who have made immense contributions to our society and economy."
I'd say that the estimated 15,000 trans people who currently serve in the military in some capacity have made "immense contributions" to this country. But, so far, there hasn't been a peep from Ivanka on the ban on trans people. It's not altogether surprising, though: The ever-poised and camera-ready first daughter had nothing to say publicly when her dad rolled back protections for transgender students in schools in February. Earlier that month, on the other hand, The New York Times reported that Ivanka Trump and her husband, Jared Kushner, were the two "social liberals" who had convinced Trump not to sign an executive order that would have eliminated other LGBT protections put in place during the tenure of Trump's predecessor, President Barack Obama.
Still, many Twitter users were incensed that Ivanka would work for an administration that is actively working dehumanize trans people with the new ban while claiming to support LGBT Americans:
Much of the public consternation aimed at Ivanka in the wake of her father's announcement called out her perceived willingness to talk the talk when it comes to being a friend to those who make up the "T" in LGBT, but her apparent reluctance to actually stand up for them.
And it isn't the first time that Ivanka, whose personal brand is closely tied to that of her often-beleaguered line of clothing and accessories, has been in such a position. In early June, her dad went ahead and withdrew the United States from the Paris climate agreement even though she had positioned herself as a champion for the environment. Although Ivanka even reportedly met with the president of Planned Parenthood, President Trump is all for depriving the women's health organization of federal funding.
Of course, Ivanka does not control her father. She is not personally responsible for this every decision. But she is 100 percent embedded in his administration, so it's disingenuous at best for her to use progressive causes to her advantage only to unwaveringly support a man and an administration dead set on tearing them down. That's what prompted the good people at Saturday Night Live to run an "ad" for the first daughter's very own perfume fragrance, appropriately named Complicit.
It's quite difficult to respect a woman who claims to care about women's personal and professional interests when her father has made a career out of cutting them down — and she's never made a public statement to contradict him. (For that matter, it's also tough to take seriously her stated regard for working women, a subject she wrote an entire book about, when the women who work for her allegedly do so in awful conditions.)
So, how can Americans be expected to credit Ivanka for positioning herself as an LGBT ally when she continues to work for a man who would ban trans people from the military? By standing by, Ivanka is complicit. And she's apparently mostly powerless as an adviser, too, if she is indeed secretly lobbying her dad to take a more liberal stance on a variety of issues. If Ivanka truly believes in the issues she claims to, she's just denigrating her image by staying on with the Trump administration.
Clearly, Ivanka is walking a fine line when it comes to supporting causes she purports to care about and keeping the peace with President Trump. She must be starting to realize that it's all but impossible to truly do both.