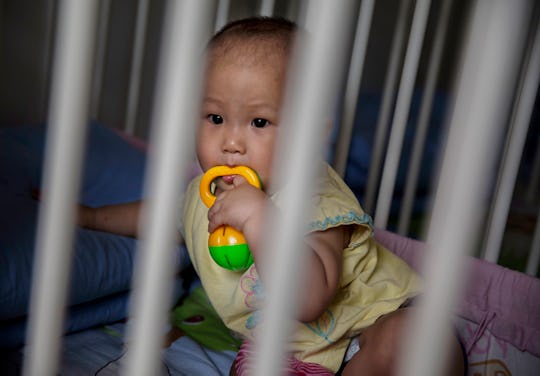 Kevin Frayer/Getty Images News/Getty Images
10 Completely Unhelpful Things People Say When You're Using 'Cry It Out'
When my son was four months old, his pediatrician recommended that my partner and I begin the process of sleep training for all our sake. He gave us a lot of information regarding the "cry it out" method, and instructed us on how to properly use it. Though it sounded too good to be true (you mean we actually get to sleep?) we tried it. To our surprise, we were wonderfully successful, but when we would tell other parents about our miraculous sleeping son, their reactions were mixed. It didn't take long to end up bombarded with the completely unhelpful things people say about "cry it out," not to mention the unfair assumptions and judgments of and about our particular parenting methods.
We would put our son to bed at the same time every night, even when we had friends with kids over for dinner. We would put the video monitor nearby so that we could keep an eye on him, and though some parents were impressed with how quickly he fell asleep, others seemed disturbed that he did it on his own, even going so far as to attempt to go get him out of his crib. Honestly, I was baffled as to why anyone would be so concerned for his well-being or start walking towards his room as if they were "saving" him. Obviously, if there were legitimate reasons for concern I, his mother, would have tended to him. He was fine.
I understand that we all have different ideas and methods when it comes to getting babies to sleep, but I didn't criticize my friends who co-slept with their children, so why were some of them criticizing me? Thankfully, I had plenty of support from others, including and especially my partner, so the criticisms of a few didn't keep my partner and I from doing what we knew was best for ourselves, our baby and our family. That's not to say that the following 10 things didn't hurt to hear, though, so if you are talking to a mom who is currently "crying it out," be gentle, will ya? She's just doing what is best for her and her kid.