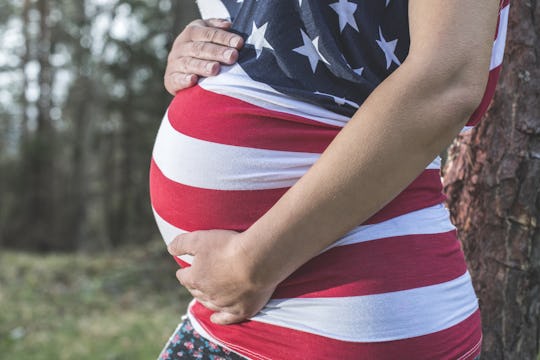 Deyan Georgiev/Shutterstock
10 Reasons Being Pregnant On The 4th Of July Is The Best
A year ago, I was pregnant with my second child and loathing the idea of celebrating this nation's independence while simultaneously growing a human being inside my body. That just sounds so exhausting, right? Turns out, as I quickly learned, that being pregnant on the 4th of July is the damn best. No, really. It's great!
Sure, it will probably be really hot outside and that can be miserable, but you know what? If you don't want to be outside, hot, and miserable, just skip the festivities and blame it on your still-forming fetus! Unlike every other non-pregnant person, forced to sweat their you-know-what off in the name of freedom, you have a built-in excuse to forego the festivities and sit inside. In front of the AC. Drinking a cold AF, non-alcoholic drink. In peace. By yourself.
That, my friends, is every pregnant person's dream.
So, sure, you can't really throw back shots of whatever alcoholic beverage your drunk friend is serving in celebration of this nation's freedom, but you'll also be skipping that "oh say can you see" hangover and feeling like a put-together human being on July 5. So for that, and so many other valid reasons that are rarely discussed, being pregnant on the Fourth of July is kind of the best. Trust me.