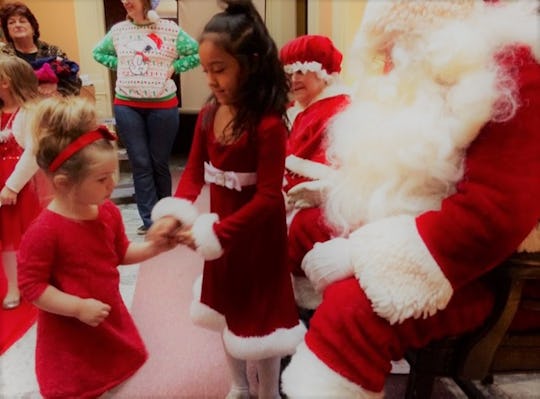 Courtesy of Jamie Kenney
10 Reasons Why You Shouldn't Shame Moms Who Make Their Kids Get Pictures With Santa
My children — a 5-year-old and a 2-year-old — have never sat on Santa's lap. No picture exists of them perched upon or even flanking St. Nick. The best I have is one of my daughter standing tentatively at his side. My son won't get close enough to get in the same frame. I do this because I don't believe children should be forced to show affection to anyone they don't want to, a principle that can be found throughout my parenting style. That said, you shouldn't shame moms who make their kids get pictures with Santa.
Last year, my colleague Danielle Campoamor wrote about how she was shamed for taking her child to see Santa (of course on social media). The passive aggressive poster used terms like "rape culture" and "trust" and "disgusting." Look, I get you on some level. It's why I've never made my kids sit on Santa's lap. Like you, I want my children to have the final say in who they touch and don't touch. However, when you get as bent out of shape about a parent having their child partake of an inveterate holiday tradition once a year for approximately thirty seconds as as you do about human trafficking, it's time to step back, think critically, and dial down the rage-o-meter. You know, just a hair.
I'm not one to suggest, "There are worse problems in the world than this, so let's not ever talk about this ever again!" You can be concerned with more than one thing at once. However, let's take scale and scope into the equation, right? Let's be willing to admit that while there may be aspects of this tradition that people don't like (myself included), and with a legitimate reason that's worth being explored, ultimately it's not that big a deal.