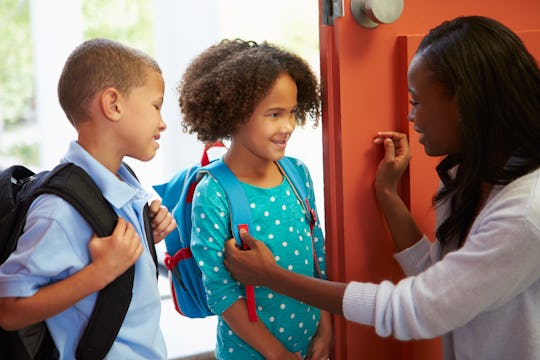 Fotolia
10 Reasons Your Kid's First Teacher Will Probably Become Your BFF For Life
Every time I drop of my boys at their preschool, I find myself incessantly chatting with their teachers. They're both lucky to be in incredibly good hands that I trust and respect, and that makes leaving them in someone else's care so much easier for me. I'm not sure whether or not the feeling is mutual, but I feel like, in some way, your kid's first teacher will become your BFF for life. Say what you will or think it's slightly weird, but I just really want them to like me and my kids.
I'm not usually all that concerned about the opinions of others. I mean, I write for a living, so I've been crucified in the comments section on more than one occasion. Still, for some reason that I can't quiet articulate, I'm really adamant on building a good relationship with my kids' teachers. My sons' first teachers are playing such a vital role in their lives. Their time with them isn't just pivotal in their development, it's important for me as their mother, too.
There are things I want my kids' teachers to know, like how much I appreciate their work and how much I respect what they do (also, that I'm sorry about my children's occasional meltdowns that I'm sure they're tired of dealing with, too). Trusting someone else with my kids is in now way easy for me, but knowing that the women taking care of them are more than capable to do so makes those drop offs monumentally easier for me and, in a way, makes me feel like I've made a new friend who has a firm grasp on the difficulty of parenthood.
So, if you're like me you're probably considering your kid's first teacher your new BFF, too. In my opinion, it's totally understandable since they're kind of a big deal, and the following ten things definitely merit best friend status.