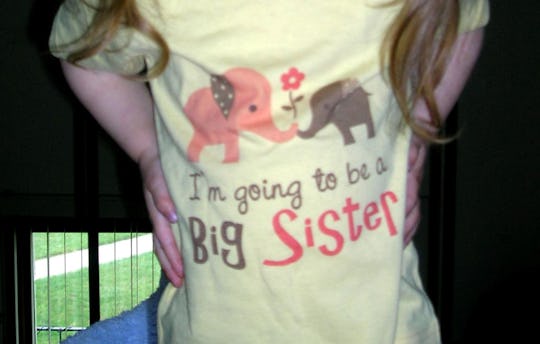 Courtesy of Steph Montgomery
10 Signs Your First Baby Can't Wait For Their Sibling To Arrive
When I found out I was pregnant with my second, I worried my daughter was going to have a hard time. Everything was about to change for all of us, but I was afraid she was going to get the short end of the stick. She was used to having her parents to herself, so I worried she'f resent her brother. Luckily, it didn't take me long to realize that my daughter absolutely couldn't wait for her sibling to arrive. She was excited to become a big sister.
In fact, my daughter was so excited that she went around and told everyone that her mom was pregnant... way before her mom was ready to divulge the news. And as my pregnant belly grew she wanted to touch my belly, feel her future sibling's kicks, and talk to him all day long. Now, I don't consider pregnancy to be all that great of a time (I mean, who likes dealing with morning sickness and constipation?) but watching her prepare for her sibling's arrival was simply incredible.
Sure, my daughter had no idea that babies are pretty boring, and I have to admit that she expressed some serious "gender" disappointment when she found out "her" baby had a penis. But they got along swimmingly the older her little brother got, and he ended up loving playing dress-up, watching My Little Pony, and pretending to be a princess with his big sis.
Becoming a big brother or sister is a huge deal, and it can be a hard adjustment for any only child. Luckily, my daughter showed all the signs that she absolutely couldn't wait to meet her new sibling, including the following: