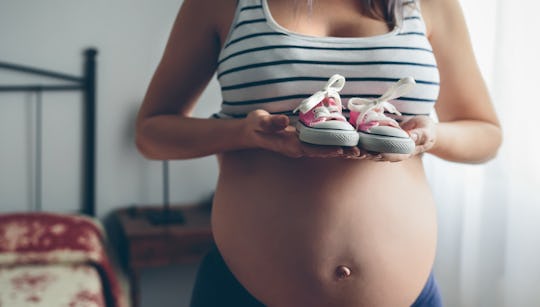 David Pereiras/Fotolia
21 Moms Reveal The Rude Comments They Heard When They Announced They Were Having A Girl
When I found out I was pregnant I immediately hoped for a daughter. So when the ultrasound tech said she saw a vulva, I was overjoyed. Then the tech said, "Get ready to lock her up," and I felt my joy deflate. Who says that? Turns out, a lot of people. Nearly every time I told someone I was having a girl they said something snarky or rude. In my conversations with other moms, I've learned I'm not alone. More than a few mothers have heard rude comments when they said they were having a girl and holy hell you guys, this is all just pretty damn exhausting.
In our culture, people seem obsessed with gender. From the time you announce your pregnancy people can't wait to find out "what you're having." And in my experience, if you tell people you're having a girl they're ready with their comments and "hot takes," either implying you should unhappy or worried about bringing another girl into the world. And if people don't go that route, they usually end up reinforcing bullsh*t stereotypes about gender. I, for one, am so done with jokes about protecting my daughter's virtue from future male suitors. It's not only heteronormative (because who's to say my daughter won't fall in love with another woman one day?), but it perpetuates the idea that my daughter's entire existence (and happiness) is for someone else to control.
I am not saying that gender disappointment isn't real or being bummed isn't a valid way to feel after you find out the sex of your still-growing fetus, but it would be so nice if people didn't try to tell you how your kids will behave based on the sex they're assigned at birth, or imply that your family is only complete if you have a child of a particular gender or "one of each." As a mom to daughters and sons, I know that gender roles are pretty much for the birds, and we shouldn't buy into harmful stereotypes about who are kids are, or who they'll become, based solely on their assigned gender. Kids are difficult to parent, regardless.
Which is why hurtful comments like the ones the following moms heard when they announced they were expecting a daughter need to be a thing of the past. Seriously, you guys. Enough with the following sentiments, OK?