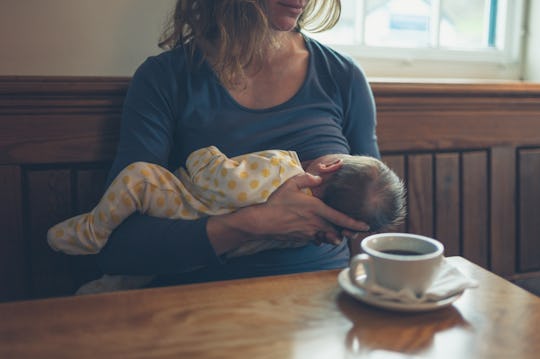 Fotolia
10 Small Things Strangers Did For Me When I Breastfed Public That Made All The Difference
Two months after I gave birth to my son, my husband and I took the kids to the museum. Since my son was exclusively breastfed at the time, I had to stop periodically to nurse him. Nursing in public (NIP) is generally no big deal where I live, but our area is also home to plenty of tourist destinations, which means there are plenty of folks around who aren't as used to it as we are. Fortunately, that day was a day I discovered the many ways strangers can help moms while breastfeeding in public.
As I sat down on a bench to nurse between exhibits, an older woman leading a high school tour group looked at me, realized what I was doing, and proceeded to make a huge, exaggeratedly disgusted face at me. (I rolled my eyes and chuckled, remembering all the sexually-charged shenanigans my peers and I got into on high school trips, 100 percent sure that the teenaged students in her charge had seen plenty of breasts before mine, in far less discreet, respectful, and non-sexual circumstances than me nursing my infant son in a specially-designed nursing shirt.) Once she was sure she'd made eye contact with me again, she made a huge display of marching across the room to talk to a security guard.
After a couple of minutes of her ranting, flailing her arms and pointing at me and my still-nursing baby, the security guard rolled her eyes and responded. I couldn't hear what she said, but I guessed she had affirmed my legally-protected right to nurse in public, because the woman glared at her, then turned to glare at me before storming off somewhere unseen. After she'd turned her back, the security guard looked at me and gave a quick smile and nod, the most soul-filling affirmation of solidarity I'd had in my motherhood experience up to that moment. I didn't have to hear the particulars of their conversation to know that she had my back, ignorant busybodies be damned.
It was such a small thing, but it meant the world to me at that moment and for many moments thereafter. Normally, I just prefer if strangers leave me alone while NIP, but when someone is clearly determined to cause trouble for me and my child, other folks letting them know that their ignorance won't be tolerated is nothing short of heroic. The memory of her standing up for me helped me feel more at ease wherever we nurse, knowing that I'm not the only one who knows or respects our rights. Though she was among the first strangers whose small gestures helped me while NIP, she wasn't the last. Plenty of others have helped my son and I along our nursing journey, by doing things like the following: