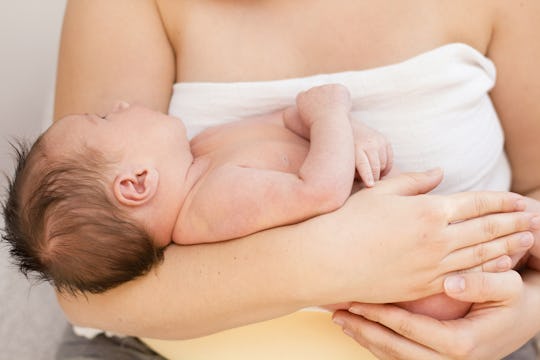 Fotolia
12 Breastfeeding Moments That Prove You Need To Trust That Your Boobs Know How To Boob
It's something of a bad joke that, right after the grueling process of bringing a new person into the world, brand-new bio mamas are asked to wrap their minds around the fact that the best way to keep this tiny being alive, is to feed them via a process that's mostly invisible to us: breastfeeding. For me, learning to trust that process required a little motto that I would now like to pass onto other nursing mamas: unless a professional has told you otherwise, trust that your boobs know how to boob. It may seem easier said than done, but trusting your body to just do what it does actually makes the whole process go way smoother.
"My boobs know how to boob" was an adaptation of another motto —"My baby knows how to baby and my body knows how to birth" — that I made up in order to stop freaking out during my pregnancy. Letting go and trusting stuff I can't see isn't always a strong suit of mine, but it was something I needed to make peace with so I could actually function as someone's mom. Breastfeeding requires a lot of trust because, for most of us, it's the first time in our lives when we have to have faith that someone we're feeding is getting enough to eat, without being able to see all of the food we're serving them. We do get signs things are going well, though, even if we can't see inside our breasts or our babies while they're nursing. (The most common sign? A baby who's relaxed and not fussing once they've finished nursing. That, and a ridiculous amount of dirty diapers.)
Sometimes, breastfeeding really doesn't work out. But a lot of times, moms psych ourselves out and do things that undermine our nursing goals, simply because we don't trust that our bodies are enough. We let other people convince us that we're not adequate, or we misinterpret totally normal things as evidence of a problem, and then we do things, like stress out or start giving bottles, that really do diminish our milk supply.
So new or soon-to-be moms; if you've decided that you want to nurse, take some time to learn what's normal, get expert advice if you're having trouble after baby comes, and get support from friends and other moms who have met the breastfeeding goals you want to reach. Whatever you do, don't let anyone who's never nursed kids before, convince you that your boobs don't know what they're doing (even if that person is you).