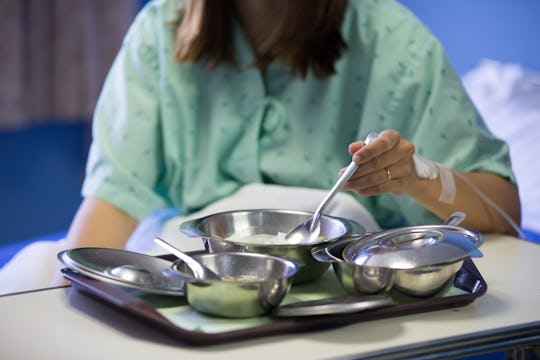 tanjaistudio/Fotolia
10 Things Every Grown-Ass Man Does For His Partner's First Postpartum Meal
The onslaught of "first" experiences that came with having a baby would've completely overwhelmed my husband and me, had we not adopted the "one thing at a time" mantra. We were meticulous about planning and preparing for our first child, but we tried to be logical about it, like not registering for every single piece of baby gear on one day. But there was one thing I felt we couldn't over-prepare for, and that was what my partner would do for my first postpartum meal. For nine months I watched what I ate and drank in the hopes of optimizing the health of our child upon its birth. That meant giving up sushi, deli meat, alcohol, and so much cheese.
While I never think moms can "have it all," I was throwing away that pretense when it came to my first postpartum meal. I was going to have it all. And I wouldn't have to worry about suffering any heartburn, or feeling too full because my occupied uterus was pressing against my stomach. I was going to eat like no one was watching.
My husband knew in advance of the big day what I expected of him in terms of procuring this most special meal. He understood the seriousness of the task at hand. And I would remember if he triumphed, or if he failed (and yes, I would hold it against him forever, because food grudges are the most severe grudges in a marriage… besides money and fidelity and maybe a few other things).
Here are some things every grown-ass man does for his partner's first postpartum meal, if he understands what's at stake (and "steak").