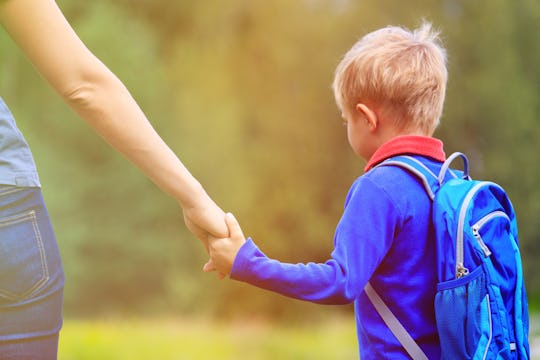 Fotolia
10 Things Every New Mom Will Eventually Apologize To Her Kid's Teacher For
My boys haven't even been in "preschool" for more than a few months, but I've already found myself apologizing to both of their teachers. I had always hoped to be the "cool mom" who had it together (you know, the one that teachers love), but I didn't realize how much of a challenge dropping my children off at school and into the care of someone else, would truly be. I get that there are things every mom will eventually apologize to her kid's teacher for, but I didn't think that I'd be asking for forgiveness this early in the game.
Of course, there are things that all women and moms need to stop apologizing for, and kids just being kids is definitely on that list. Still, that hasn't stopped me from saying sorry when, even in the back of my mind, I know an apology isn't necessary. I guess I just have a lot of respect and appreciation for my kids' teachers and all that they do, and I don't want my kids to become those kids who drive her to drowning her sorrows in a tall glass of rose' every night. I definitely don't want to be that mom who causes a teacher to run for the hills when they see my car pull into the parking lot.
I'm doing my best to be a perfect mom but, well, I'm definitely failing at that more than I'd like to admit. I want my sons' teachers to be excited (and honestly a little relieved) when they see my kids walk through the door, so I tend to apologize to them more than what's probably necessary. I'm sure I'm not alone, though, as it seems like all of my friends with kids are worried about having those kids, too. So, in the end we've all apologized to teachers for the following things, at some point.