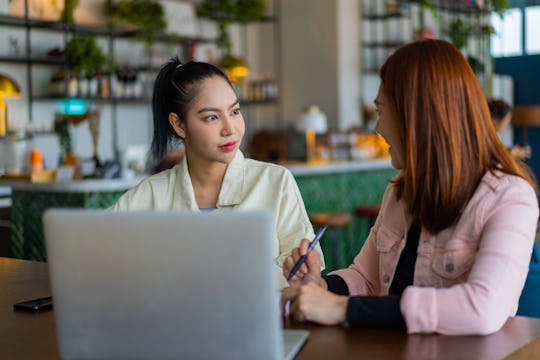 JimmyFam/E+/Getty Images
10 Things People Feel Fine Saying To Moms Coming Back From Maternity Leave
Returning from maternity leave elicited a variety of emotions from me. I was scared to leave my kid, but I was excited to engage in adult conversation on a regular basis again. I was nervous that I'd be regarded as irrelevant, due to being out of the office for 12 weeks, but I was eager to disprove that theory. What I was totally unprepared for, though, were the things people say to moms returning from maternity leave. Women have been birthing babies for centuries, and incorporating motherhood into their existing lives. And yet, some of what people felt fine saying to me made me feel that new working moms are an anomaly at the office.
I guess I shouldn't be totally surprised. New studies show that working moms are concerned with how their employer regards their new status as a parent when when they return from leave. I know that I always feel I have to compensate for leaving right at six, so I can spend a hour or so with my kids before they go to bed. I am willing myself not to be, but it's hard to shake that self-consciousness as you are dashing out the door while most of your colleagues linger at their computer screens.
Then again, I may just be a boss at time management, since I am motivated to get my work done so I can get home to my kids. I'm also better at saying "No," or at least, "Not now, but I can have this done by the morning." That bravery may come with age, though. When I was starting out in my career, I never said "No" to any work demand. Still, 20 years of job experience is not always enough for me to shake off the worry that I'm being judged, not as an employee, but as an employee with kids. That's why I bond with other parents on the job; I respect all my co-workers but the other working moms just get me in certain ways.
I didn't expect to hear some of this stuff, as it is 21st century and all, but here were some things people felt fine saying to me when I came back from maternity leave that'll make you think we're living like it's 1959: