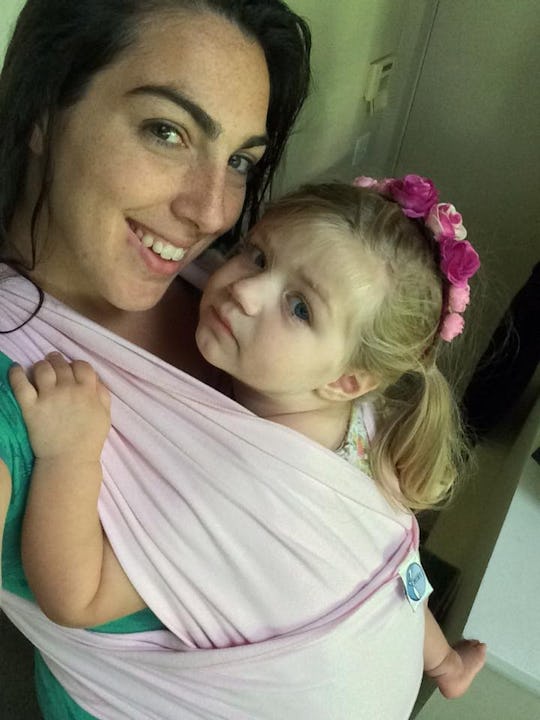 Photo courtesy of Jamie Kenney
10 Things You Don't Want To Face When Your Child Is Too Big For A Carrier
My daughter is almost 3, almost 38 pounds. While she is well within the weight limit of our beloved baby carrier, which I still use from time to time, the truth of the matter is that the weight limit is what's safe and therefore technically possible, not what is practical. My babywearing days will soon be behind me. Still, despite knowing the impracticality of it all, there are just some things you don't want to face when your child is too big for a carrier. This largely boils down to reasons of convenience, habit, and sentimentality.
Firstly: convenience. Do you know how encouraging it is to know that you can move about freely in the world, even with a wiggly toddler, with the help of a baby carrier? It makes tasks that would be otherwise unbearable (a hike through the woods, for example) super easy and fun. I don't know how we would have gotten through Disneyland or the Women's March without my baby carrier.
Second: habit. Babywearing is just how I've lived my life for the past few years now. Oh sure, things have tapered off a bit, but seriously? Nothing? Admitting that your child is too big for a carrier is admitting that this mode of operating in the world, one that has worked so well for you, has to be re-imagined.
Third, and perhaps most powerful: sentimentality. I mean, you guys...
Look at how cute this is! She looks like an adorable, fluffy little mochi bun just chilling on my chest. Not only did it look cute, but it was so cozy and comforting (and also nice and warm, which was nice on a crisp fall day, but not so very warm that it wasn't also pleasant in the summer). So in addition to being convenient and easy, babywearing is like an all-day cuddle party with your happy, mochi bun of a baby.
Who would want to say goodbye to all that? Still, the writing is very often on the wall: