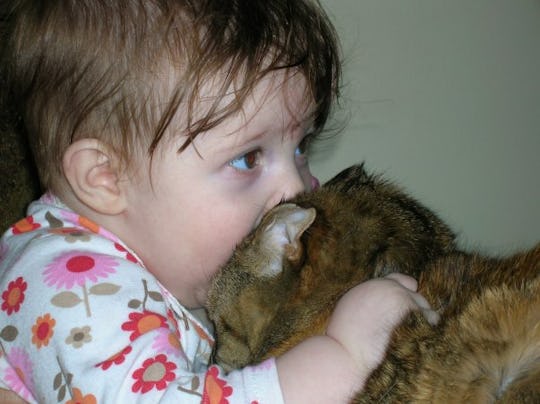 Courtesy of Steph Montgomery
The Family Pet & My Kid Are Conspiring Against Me
I have always had a pet. When I was a baby, we had a hunting dog named Sam, and after that we had a whole menagerie including a rat, a turtle, fish, and tons of cats; all of whom were beloved and named either Sam or George. (What our parents lacked in naming creativity, they made up for in always filling our home with furry, scaly, and lovable friends). I have tried to do the same for my kids, but there have definitely been times when my family pet and my toddler conspired against me.
Having a pet can be wonderful, regardless of whether or not you make the life choice to procreate. However, having a pet when you have kids not only facilitates heartbreakingly adorable pictures, but can teach them about nature, life, responsibility, empathy, and most definitely ways you can conspire against your parents. Don't like your dinner? Feed it to the cat. Can't sleep at night? Blame the cat. Need snuggles? Pet the cat.Want to see mom squirm? Ask her to explain the reproductive cycles of fish, cats, or turtles and then ask her to explain exactly how the daddy cat sperm meets up with the egg in the mommy cat's tummy. "Is that how baby people are made, too?"
We were not ready to have that conversation, yet. Thanks a lot.
I love our kids and our pets, and while I can't imagine not having both I can do without all the times it seems like they are are actively conspiring against me (especially the youngest ones). They're trouble alone, and more trouble together.