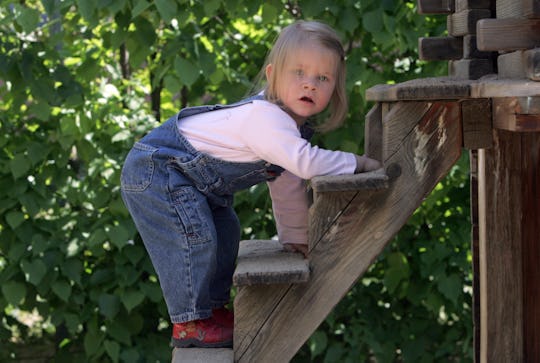 JOHN MACDOUGALL/AFP/Getty Images
10 Times When It's Hard To Respect Your Kid's Consent Because Their Choices Suck
As parents, it's our job to teach our kids about consent from an early age, but there are also definitive lines that need to be drawn between a parent respecting a child's decisions and being the responsible adult they need. We can't cater to every single request of our children but we also need to let them know that we're listening, that we respect them, and that we truly want them to be able to steer their own lives and make their own decisions. In other words, there are times when it's hard to respect your kid's consent because, well, their choices just suck. Like, sometimes they're the absolute worst decision makers and allowing them to make that horrible choice will only end in tears (or worse).
The problem is, when they're still kids, they're not necessarily aware of the consequences of specific actions. They don't know about gravity and how powerful it can be; they don't know about the dangers of the world that we vigilantly look out for; they don't know that randomly pooping on a sidewalk is, you know, frowned upon by the majority of society. So it's a problem, the whole, "I want to teach you to be a self-determining individual and I want to respect the decisions you make, but also I want to keep you from falling off of a high cliff so, you know, work with me, kid."
No matter how much we want our kids to learn independent decision-making skills, "No, you can't play with these sharp knives," and, "No, you can't do cannon balls off of the couch onto a hardwood floor," are perfectly acceptable requests to deny. There's this thing called safety and it's a parent's responsibility to draw some lines in order to keep our kids free from harm and establish healthy boundaries and direct them in the right direction. However, we also don't want our kids to grow up and feel like their opinions are irrelevant or that their parents are just dictators that dole out rules and don't respect them. I mean, no one wants to be a toxic parent.
Our kids need to know that their feelings are important. They need to understand that what they have to say is worthy of a listening ear, and that we do respect what they have to say. It's just that sometimes it's, well, hard because some of their decisions are kind of the worst. Here are the 10 most difficult times to respect your child's consent, because their choices are pretty questionable, at best.