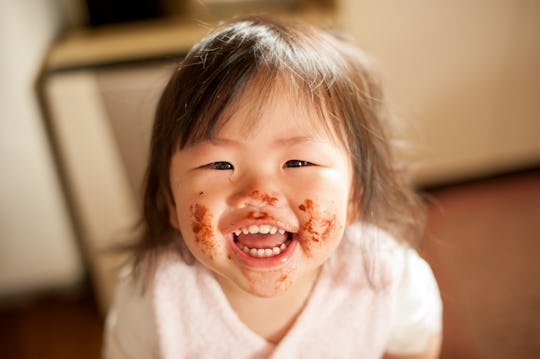 Fotolia
10 Ways Having A Kid Makes You Appreciate The Little Things (Like Boxes)
Catch me on any given day, and I'll probably be quick to tell you how busy I am. I know, I know; it's annoying. However, it's also true. My life seems so complicated as a mother, a writer, an editor, a romantic partner, and an adult with bills and other responsibilities, like snaking the drain or going to the DMV. Thankfully, the are ways having a kid makes you appreciate the little things, so I don't get as caught up in the big-but-arguably-unnecessary parts of everyday life. I can stop and appreciate what I would normally take for granted or even ignore, because those things are the only things my son sees.
For example, when walking down the sidewalk my son makes it a point to stop and wave at every single person we pass. I don't take the time to do that, because I fancy myself a busy adult with places to go and other people to see. I'm "too busy" to be a kind human being. I'm "too preoccupied" to say hello to my neighbor or the owner of my favorite corner store. Not my son, though, and I'm when I'm with him I'm encouraged — if not forced — to slow down and really see and appreciate the people around me.
Sure, sometimes it's also somewhat of an annoyance. I mean, I'm all for taking the time to stop and appreciate the small stuff, but I can only wax poetic about an airplane in the sky or talk about how incredible a spoon is for so long. Still, my son reminds me to slow down on a daily basis, and I'm thankful for those reminders. So, with that in mind, here are a few ways having a kid makes you appreciate the little things that adulthood encourages us to ignore.