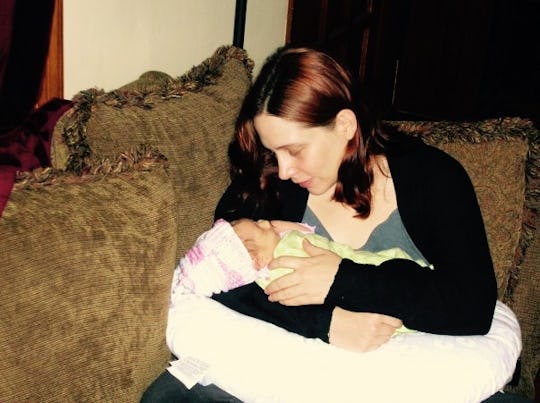 Courtesy of Steph Montgomery
These WTF Postpartum Moments Are Normal. Promise.
I fully expected my time home with my newborn to be an idyllic experience full of snuggles and picture perfect moments. As it turns out, most postpartum moments are actually scary, weird, gross, and only picture worthy if I wanted to enter a contest for the postpartum belly that most resembles food. I spent a lot of my maternity leaves wondering if I was "normal" and muttering to myself, but I have also experienced many WTF postpartum moments that are totally, wonderfully normal.
I now know that nothing in motherhood turns out exactly as we plan or expect, so the fact that my postpartum period was less than idyllic really and truly shouldn't be a surprise. Still, "less than idyllic" doesn't necessarily mean it wasn't normal. What does normal even mean, anyway? For me, normal was mesh panties, bleeding like a scene from a horror movie, exhaustion, and feeling like a stranger in my new body and new role as mom.
Once I got past the disappointment and fear, and learned to have a sense of humor about how gross parenthood and postpartum bodies can be, I actually really enjoyed new motherhood. Sometimes WTF can also mean, "I never knew it could be so wonderful," and sometimes laughter and learning to let things go can be the best way to heal from childbirth and to learn to be a new mom.