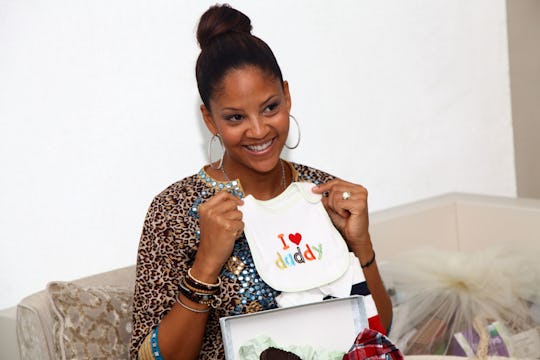 Astrid Stawiarz/Getty Images Entertainment/Getty Images
11 Baby Registry Items Every New Mom Won't Think To Ask For, But Totally Should
If you've recently found out that you're expecting, you've likely got a lot on your mind. From maternity leave, to choosing a baby name, to the nursery, to your baby shower; your exhausted mental wheels never cease to continue turning. As a consequence, it's not uncommon to forget those baby registry items every new mom won't think to ask for because, well, you're a new mom who hasn't done this before and people are giving you unsolicited advice at every turn and you're dealing with the side effects of pregnancy and, like, it's a lot, OK?
When you're acutely aware that your life is about to change in ways you've never imagined, it can be difficult to properly prepare. Thankfully, baby showers lay down a lot of the road work that is the preparation process. Sure, they can be pretty awkward and somewhat exhausting and even a little outdated, but they can also help you prepare for your baby's arrival by way of gifts. While there are some obvious cornerstones to any pending parent's preparation (like a crib and a carseat, diapers and bottles and bibs, and let's not forget about the adorable baby clothes), there are also some things that you, most likely, didn't or won't think to put on your registry; things you'll actually really need and definitely use at some point; things that will benefit you. All-too-often new mothers are told to sacrifice everything for their baby, and leave their self-care at the door, but if you want to be the best mom you can be, you need to take care of yourself.
These items, while not as obviously essential as a carseat, also aren't that expensive, which means putting them your registry can be a guilt-free, proactive parenting act. You'll have the day-to-day items you'll likely need, and no one will break their bank providing them to you. I mean, this is as win-win as it gets. Every new mother deserves to take care of herself. After all, she just carried and birth a human being. Yes, register things for your baby that will directly apply to them (clothes, socks, shoes, toys, etc) but make sure you take care of yourself to, mom.
So, with that in mind, here are 11 items that you will be so glad you've got once your baby arrives. No, you can't be perfectly prepared for a new baby when they arrive, but you can definitely rest easy knowing that, when it comes to the small stuff, you're covered.