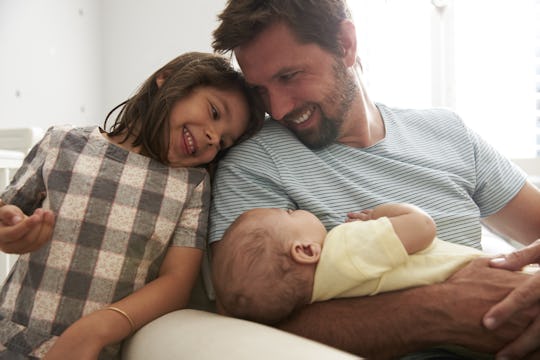 Monkey Business/Fotolia
11 Dads Share What They Wish They Knew Before Having A Second Kid
I don't know what it's like to be a dad. Based on my own marriage, I assume it's basically like being a mom, only with less breastfeeding and more people believing you're clueless due to stupid, baseless gender roles. I know the emotional and mental journey I began when I found out I was pregnant with my second child, but I don't know exactly what it was like for my partner. So I asked what he and other dads wish they knew before having a second kid. Because it's a lot to unpack and different points of view can only ever help.
When I asked my husband, he was characteristically pragmatic and calm. "I wish I knew right away the logistics of handling two. Because as it was we defaulted into you taking the little one a lot of the time. It was easier when we had the numbers advantage," he told me. "Especially at the end, when we actually knew what we were doing and we could tag team. There's no tag-teaming anymore. We're f*cked the day they learn to team up against us in a divide and conquer strategy." My husband isn't military or ex-military, but I swear to God he talks like a grizzled old general in a war documentary a lot of the time.
But what did other, non-Ken Burns documentary dads wish they'd known from day one about parenting two?