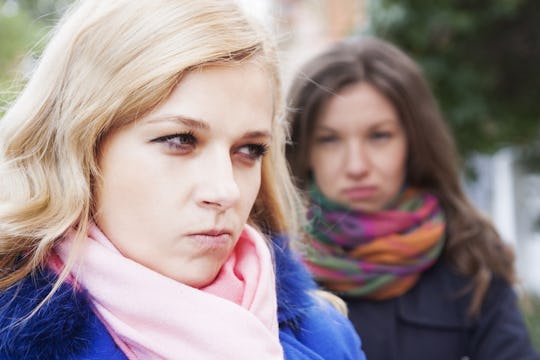 Fotolia
Fights All BFFs Have When Only One Is A Mom
Having a baby changes all of your personal relationships, for practical and emotional reasons. You simply don't have the same amount of time to devote to friends as you did before becoming a parent, and are often tired and a little preoccupied. In other words, dealing with someone else's needs and wants can sometimes be overwhelming. So, it's no surprise there are some classic fights all BFFs have when only one of you is a mom. Honestly, it makes sense when you consider your entire life has changed and you need to reassess just how the special people in your life can still get your time and attention.
A monumental event, like having a baby, usually means your priorities need to shift and responsibilities need to be altered. Sometimes (if not almost all the time) this can cause a few too many hurt feelings. When I was in the postpartum fog, I had a completely one-sided argument with a friend of mine who, I thought, had abandoned me. It turned out that just because I had a baby didn't mean her job and her personal responsibilities ceased to exist. She couldn't just drop everything to come see me all the time. Who knew, right? I guess some moms (read: me) forget their child-free friends are not on maternity leave, so meeting up on a Tuesday morning isn't really practical.
Friends are important, especially when becoming a mom can erode your sense of identity and independence. Holding on to your BFF is more important now than ever before, so ride out the arguments you are bound to have, now that one of you is a mom. I can assure you, your BFF (and the relationship you share with them) is worth it.