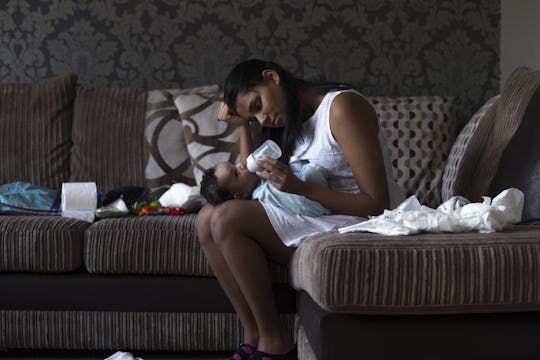 Fotolia
11 Hot Mess Mom Moments That Are Basically A Mom Just Being A Human Being
I have a secret. No matter how perfect a mom looks in the drop off line at school or on Instagram, I assure you, she's not perfect. That's OK. And then there's the rest of us, the hot mess moms, with bad hair days and mismatched socks who constantly run late and say or do the wrong thing on a daily basis. Yeah, we're human, too. It's time for society (and other moms) to stop expecting perfection. Those "hot mess moments" are basically a mom just being a human being, and that's OK because moms are human beings.
When we hold other moms (and ourselves) up to impossible standards, we set a bar too high to reach, let alone leap over. I not only accept that I'm nowhere near perfect, I run with it (or more accurately trip over it) and embrace my hot messiness. I want other moms to understand that it's OK to make mistakes. Motherhood isn't a competition and when you treat it that way, no one wins.
It's time for moms to realize that they don't have to be perfect. When we give up the culture of perfection, and the cult of "sanctimommy," we can put a dent in the patriarchy. If we all do it, that's going to be a pretty big dent. Let's support each other in our imperfection and find ways to laugh at the hot mess moments that fill our days. After all, those moments prove that we are actually human beings. When we make it through them, we're not just hot mess moms, we're freaking badasses.