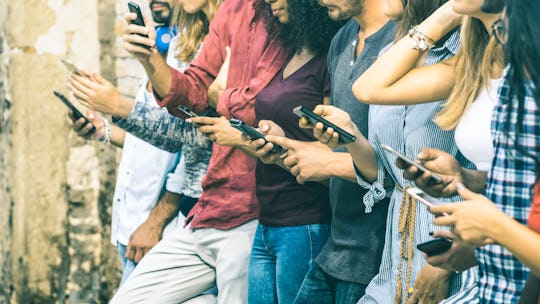 Mirko/Fotolia
11 Teens Reveal What They're *Really* Doing On Their Phones All Day
When I was growing up, the internet was an incredibly helpful resource for me. No one really worried what teens were doing on their phones, myself included, because the internet wasn't at our fingertips. Not yet. So, while at home, I was drawn to platforms like Tumblr and LiveJournal, where I could ask anonymous questions and connect to a network of like-minded teenagers around the world. From questions about my changing body, to my sexuality, to how to calmly communicate with my mother when everything she seemed to do made me angry, the internet was a place I went to sort through and better understand myself as a maturing young woman.
When I was navigating the more contentious and isolating moments of my development, it was 2005, and the internet was far less developed than it is now. While we posted on websites such as Myspace, LiveJournal, and Tumblr we were sitting in front of a (probably large and bulky) computer, since our cell phones didn't have internet access yet. So wandering, exploring, and using the internet was inherently restricted to after school hours, eliminating the possibility of us being attached to our devices at all hours of the day. Even Facebook, at the time, was limited to users that could provide a high school email address. This would be a rule that would change in 2006, when Facebook opened itself up to any user who was at least 13 and had an email address.
Now, in 2018, I watch children as young as 5 post, browse, compare, and devour media instantaneously and constantly. Common Sense Media reports that the average tween spends six hours consuming media, while 50 percent of teenagers report they feel "addicted to their mobile devices" and spend over one-third of their entire lives looking at them.
That's why I asked teenagers all over the world to tell me all about what they actually do on their phones all day, with the hope that we could all better understand how to support children in this social-first world. And as you'll read, similarly the way I used the internet when I was growing up, teenagers use their phone to make sense of their experiences, their identity, and connect to each other and the larger world.