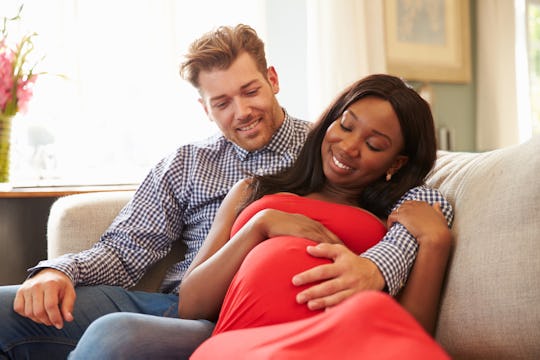 Fotolia
11 Things Every Grown-Ass Man Does To Help His Pregnant Partner Feel Great About Her Body
If I'm being honest (something I constantly strive to be) I must admit that I didn't like being pregnant. Like, at all. In fact, I couldn't stand being pregnant. Not only did I spend the majority of my pregnancy sick, and dealt with some severe pregnancy complications, I didn't really feel all that great about my body. Thankfully, I had a fantastic partner who just so happened to do all the things every grown-ass man does to help his pregnant partner feel great about her body, so those feelings of inadequacy or just, well, unattractiveness, were short lived. Some of the things my partner did were big; some of the things were small; some of the things didn't seem to make a difference, but they all helped me feel better about a body that I didn't feel at home in.
That's arguably one of the most difficult parts of pregnancy; sharing an ever-changing body with someone else. I was no longer in control of my body or the things that it was doing to be able to grow and sustain another life, and the changes my body was experiencing left me feeling like a stranger in my own skin. I felt along in this experience, as my partner is unable to ever experience pregnancy for himself.
Thankfully, a grown-ass man doesn't need to know what pregnancy is like in order to assist his pregnant partner in feeling better about her body throughout the various stages of gestation. Even the most body-positive woman can start doubting herself when she's pregnant and feeling anything but confident or attractive or just like herself, which means partners of pregnant women need to step up and remind their significant other that they really are all of those things, and more. So, if you're a grown-ass man with a pregnant partner, make sure you do these 11 things so your mom-to-be remembers that her body is just as amazing as she is.