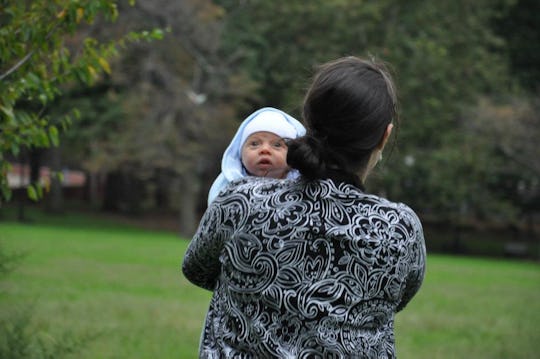 Photo courtesy of Joshua Kenney
I Wasn't Prepared When I Took My Baby Out In Public For The 1st Time
I was confident that everything was going to go great. I was going to put on real clothes for the first time in two weeks. I was going to dress my newborn son in the cutest outfit he had. I was going to walk through my beloved community. The doctor said walking would help me heal from my c-section, so what better excuse to go out, run an errand, have lunch in a charming café, and grab coffee? Turns out, there was so much I wasn't prepared for the first time I took my baby out in public.
Discovering how to operate in the world outside of your home with a baby is frustrating and has a steep learning curve. Just when you get used to one issue, another one arises. Like, you finally get a handle on bringing 700 pounds of equipment and changing diapers in tiny bathrooms without a changing table and then, boom. They're toddlers. Toddlers don't need as much stuff and, eventually, most of them are potty trained, but then you need to worry about your 2 year old running in the parking lot and knocking things off shelves and planning trips around when you think they will probably have to pee. (Spoilers: they will have to pee at the most inconvenient time humanly possible. This is a law of nature. It is known.)
But that first trip was eye opening, and there was so much I just wasn't ready to face, much less overcome with grace.