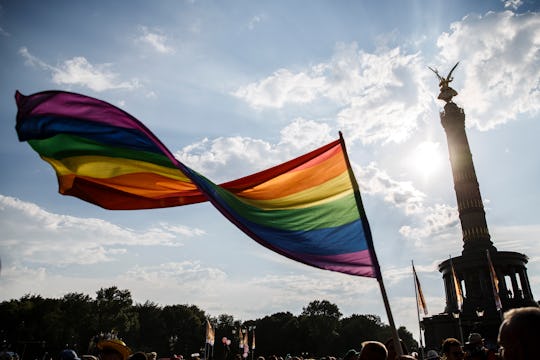 Carsten Koall/Getty Images News/Getty Images
Here's How To Celebrate Pride At Work, Because Why Wait For Weekends?
There's no denying that Pride is a fun month. There are tons of parades, parties, and other exciting events filled with every color of the rainbow geared towards people young, old and every age in-between. While it's a time for celebration and merry-making, it's also kind of an extracurricular activity if you think about it. And that's oftentimes where the party seems to come to a screeching halt. After all, it's not often that you hear of an amazing affair celebrating the LGBTQ+ community at the office. That doesn't mean that you can't celebrate Pride month at work, though.
Showing your support for the LGBTQ+ community doesn't have to start once you punch out at work. In fact, there are many ways in which you can be an ally during office hours. That said, some companies might naturally be more open to being inclusive than others. You might work for a company comprised of hundreds of people — or it just might be you, a couple of coworkers, and Bertha, the bookkeeper. Ultimately, it doesn't matter how many employees work at your company; what matters is raising awareness at your workplace that makes sense for everyone. These tips can bridge a seamless transition between work and play and help you celebrate Pride month no matter what job you have.