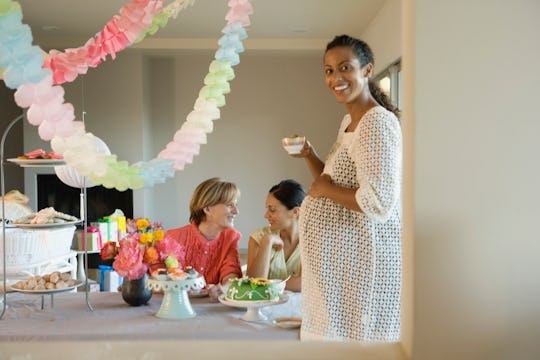 Jupiterimages/Stockbyte/Getty Images
These 12 Baby Shower Snacks From Target Are 100% Stress-Free
Baby showers typically fall right before or after lunch, so rather than a full meal or a chocolate bar melted into a diaper (please, no) it can be nice to have appetizers and finger foods for guests to graze on. With this in mind (and because you'll probably be there anyway), the 12 best baby shower snacks from Target belong on your pre-party shopping list. They're guaranteed crowd-pleasers, and require minimal preparation (so they're hostess-pleasers, too).
Affordable candles and cute workout clothes might be the first things that come to mind when you think of Target, many locations also have great grocery sections that are stocked with everything from fresh produce to frozen appetizers. It can be easy to overlook the food aisles (especially if you're strategically trying to circumvent the toy section with your kiddo) but if you do wander into the grocery zone, you'll find some great baby shower snacks, including bite-sized quiches (seriously who doesn't love mini food?), lots of pink or blue candy options, and a literal pail filled with desserts.
And while you're at the home of the red polos, you can easily pick up a gift for the new baby and some fun decorations, like this tassel garland, a rose gold baby shower sign, or the cutest gender-neutral cake toppers. Now all you need is some baby shower games that don't suck.