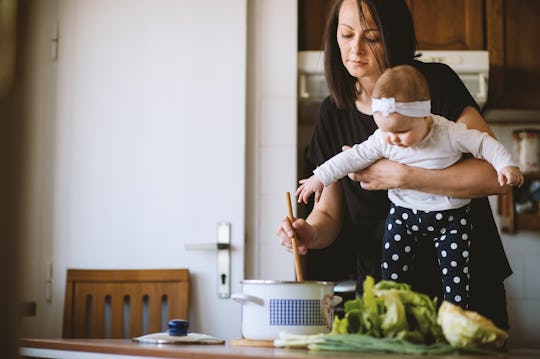 Mladen Sladojevic/E+/Getty Images
12 Easy Recipes For Breastfeeding Moms That Are Simple & Healthy
Proper nutrition is important all of the time, but it is even more crucial for breastfeeding moms to get the essential nutrients needed to keep themselves healthy as they feed their babies. These easy recipes for breastfeeding moms are perfect for keeping you satisfied, but their simplicity makes them ideal for when you're juggling all of the demands that come with nursing a child.
Moms who breastfeed exclusively may need to consume between 330 to 400 extra calories per day to help support the nutritional demands of breastfeeding, according to The Mayo Clinic. Of course, when it comes to milk production, the more a nursing mom pumps or feeds, the more milk they will produce, Kelly Mom reported, but focusing on consuming foods that will help fuel your body with natural energy and keep you hydrated is important.
When you're waking up at all hours of the night and are basically a 24-hour buffet for your little one, the last thing you probably want to do is spend hours crafting a home-cooked meal. You're exhausted, and you know you need to eat something, but the thought of chopping, sautéing, and stirring up a storm just sounds like a disaster waiting to happen. Take a look at these recipes for some quick and easy inspiration that can help keep your nutritional needs met while nursing.