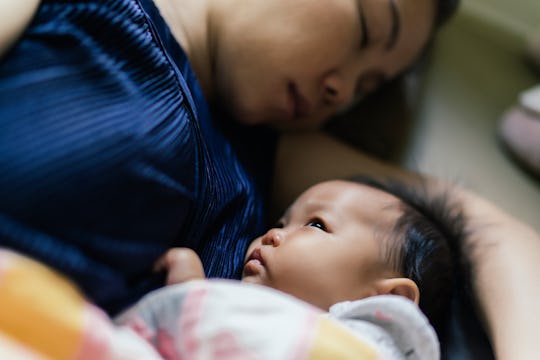 skaman306/Moment/Getty Images
If Breastfeeding Makes You Tired, Here's How To Keep Your Energy Up
Be gentle with your body.
Being a new parent is tiring, and if you're a breastfeeding parent, you might find that you are even sleepier than usual. Obviously, being your child's main source of nourishment is especially exhausting when you're up every two hours, but why does breastfeeding make you tired, anyway? You might be surprised to learn that there's actually a hormone involved in breastfeeding that may play a role in some of that sleepiness.
Does breastfeeding make you tired?
If you've ever darn near dozed off while breastfeeding, you're not alone. Turns out, breastfeeding does make you sleepy, for reasons other than being up all night or being extra comfy with your babe. After you deliver your baby and placenta, your body triggers the release of a hormone called prolactin. "Prolactin plays a role in your milk letdown," which is an automatic natural reaction signaling your body to start making breast milk, Sterling Grey-Simmons, a certified breastfeeding specialist, explains to Romper. "[It] helps you make and maintain your milk supply." But the hormone can cause something else, too: drowsiness.
While prolactin doesn't directly affect the parts of the brain that control sleep, he can see why it might contribute to feeling drowsy. "Most of the fatigue is related to altered sleep patterns in breastfeeding moms and the metabolic demands of producing breast milk," Jason VanBennekom, M.D., board-certified OB-GYN at Baptist Health, tells Romper. "But prolactin does have a direct role in reducing stress and anxiety. Oftentimes, the decrease in stress allows greater relaxation, and therefore could make someone feel sleepier, especially if already fatigued by lack of sleep during nighttime hours."
"Prolactin seems to make a mother feel relaxed and sleepy, so she usually rests well even if she breastfeeds at night," Jessica Shepherd, M.D., OB-GYN and partner with Happy V, tells Romper. "More prolactin is produced at night, so breastfeeding at night is especially helpful for keeping up the milk supply."
How to keep your energy up while breastfeeding
Although falling asleep while nursing might sound like a sweet, tender moment, it's not always feasible or safe. Fortunately, there are plenty of ways you can keep your energy up while breastfeeding. Some of these you can even do while your baby eats, helping you to stay even more alert during those cozy sessions.
As long as you prioritize your health, give yourself some time to relax, and maybe even use the help of a little coffee, sleepiness associated with breastfeeding should be no problem.
Studies referenced:
Fahmy, S. (2008, February 28). Low-intensity exercise reduces fatigue symptoms by 65 percent, study finds. UGA Today. Retrieved September 19, 2022, from https://news.uga.edu/low-intensity-exercise-reduces-fatigue-symptoms-by-65-percent-study-finds/
Experts:
Sterling Grey-Simmons, certified breastfeeding specialist in Atlanta, Georgia
Jessica Shepherd, M.D., OB-GYN and partner with Happy V
Jason VanBennekom, M.D., board-certified OB-GYN at Baptist Health in Jacksonville, FL
This article was originally published on