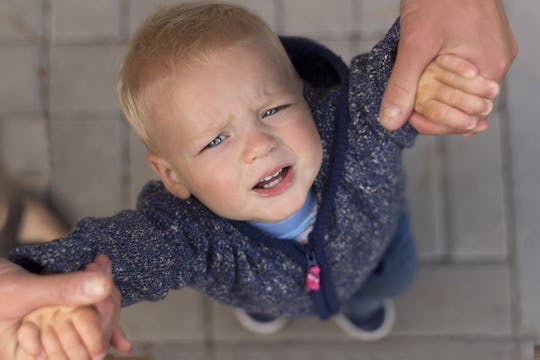 Olga/Fotolia
12 Infuriating Things Your Partner Will Probably Do When Your Kid Has A Tantrum
Parenting with a partner can be hard. Hey, even two people on the same page aren't in complete agreement all the time... unless one of you is a specially programmed parenting robot. (PS: I call dibs on this idea, Westworld and Black Mirror, so I'd better not see any morally complex and well-written explorations of this issue because that would make you idea thieves.) Dealing with a child pitching a fit can be particularly trying, so you can bet your you-know-what there are some completely infuriating things your partner will do when your kid has a tantrum.
Look, this doesn't mean your partner is a terrible human or anything. Everyone makes mistakes, and it's even easier to make mistakes when you're trying to deal with an irrational and emotional kid. Good parenting is all about communicating and backing each other up as a cohesive and supportive parenting team... which can be tremendously hard to do when you can't hear yourself think over the wails of "I want candy!" or "I don't want to go to bed!" or "Why don't we live at Disneyland?!" or any of the bajillion and seven other things kids will go absolutely nuts about. It's easy to get lines of communication crossed when you're just doing your best to get your beloved little one to shut the hell up.
Of course, if your partner regularly does any of these things it's probably time for some serious conversations. After all, parents have to be on the same team, even (hell, especially) during the most difficult demonstrates of kid-fury. But even when they do it once or from time to time, even if it's not a huge issue, it's still likely to leave you seeing varying shades of red for a while.