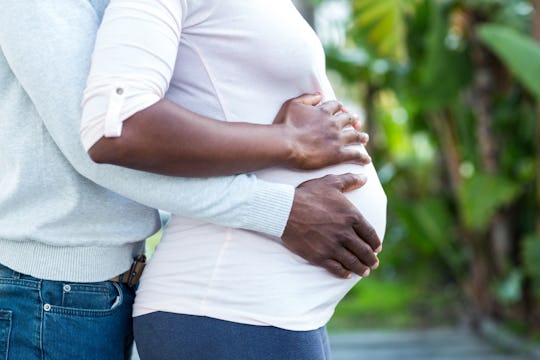 Fotolia
12 Things Every Grown-Ass Man Does For His Pregnant Partner When They're In Public
Are there any scenarios when one would not want a partner who respects and cares for you? I can't think of any. Actually wait, yes I can. I'm pretty sure there are some sexy bedroom scenarios when you could be looking for something else from your partner, in which case you'll find zero judgement from me. In my own experience, however, being with a respectful and grown-ass man has a number of benefits, including all the ways a grown-ass man helps during pregnancy.
Yes, it's true that women do the bulk of the work (or, you know, their bodies do the bulk of the work) when it comes to gestating a baby, but that in no way means that their partners can't step up, too, especially if their partner is a cisgender male who will never know what it's like to survive morning sickness and see your feet swell up and deal with constipation and feel like you're in a body you know longer recognize. (Isn't pregnancy just the best?!) Finding the energy to go out in public when you're pregnant can be a feat in and of itself, so anything you can do to help your partner when they're out in the exhausting world is not only appreciated, it's necessary.
Here are just a few of the many ways that grown-ass men can make their pregnant partner feel totally supported when they're in public. Plus, this gives you a chance to publicly celebrate your partner and the wonderful things her body is doing and the fact that, well, you're grown-ass self is about to be a dad.