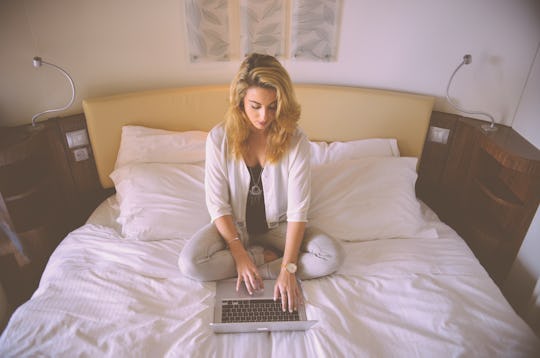 stokpic/pixabay
12 Things Every Grown-Ass Man Says To Support A Mom Who Works From Home
Not sure about you guys, but once I became a mother the majority of the questions I was asked to answer revolved around whether or not I would be working or staying at home. Very rarely did the option to work from home come up, though that's exactly what I've found myself doing (after forays into working out of the house and not working at all). I'm thankful to have the option, and I'm also thankful for a partner who has supported the choice to work from home.
Working from home sounds amazing. I mean, I can work sans pants and be the one to care for my son and play with him when I can and I don't have to deal with traffic while simultaneously contributing to my family financially. That's the dream, right? Yeah, well, sure, it's great, but it's also sometimes the freakin' worst. What I thought working-from-home as a mom would be like vs what it's actually like, day in and day out, are night and day and the learning curve has been, well, anything but kind.
Thankfully, my partner recognizes the extra pull of dual responsibilities I face every day and, most importantly, he gets it. While there are so many options available to mothers now (yes, gender equality FTW), being a work-from-home mom works for me and my family, in part because I have a grown-ass man who supports me. While action goes a long way (*hint* any romantic partner ever *hint*), saying something seemingly small, but very significant, can help, too. Grown-ass men, start taking notes.