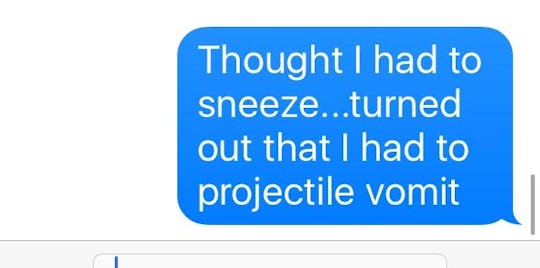 Courtesy of Hannah Westmoreland Murphy
13 Texts Pregnant Women With Hyperemesis Gravidarum Will Inevitably Send
If you've ever suffered from hyperemesis gravidarum (HG), aka hell on earth, you're well aware of what real misery actually feels like. Throwing up all day, every day is nothing short of disgusting and isolating and exhausting. When you risk projective vomiting every single time you open your mouth, communication becomes not just difficult, but nauseating. That's why the texts women with hyperemesis gravidarum send feel more like a lifeline than a simple "hello," because there really is no possible way to accurately explain to someone how you feel. Well, I mean, at least not without throwing up again.
Having suffered from hyperemesis gravidarum myself, I know the struggle all too well. I wish that I wasn't so familiar with its many burdens but, well, here I am. At first, I though I was just feeling the standard nausea and vomiting associated with that notorious pregnancy side effect, morning sickness. However, as my vomiting became more frequent and severe, I realized that I was throwing up way too much during my pregnancy for it to be considered even close to "normal."
I was eventually diagnosed with hyperemesis gravidarum, and though I was relieved to know that I wasn't actually dying, that didn't prevent me from feeling like I was. Even trying to have a simple conversation with people sometimes made me want to vomit (and not because it was something the other person was saying, I promise), but I was absolutely miserable and I needed a distraction from how I was feeling, so I shared my misery via the following text messages. Because an estimated 60,000 cases of hyperemesis gravidarum are reported, I have a feeling I'm not alone.